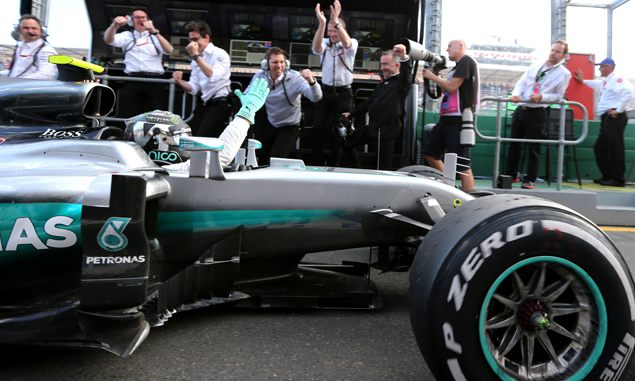 Nico Rosberg says strategy played a "crucial" role in his winning a drama-filled Australian Grand Prix, with the Mercedes driver switching to the medium tyre when the race was interrupted following Fernando Alonso's huge crash.
Lining up P2 on the grid, Rosberg saw both Ferraris overtake him at the start but was able to muscle his way past polesitter team-mate Lewis Hamilton. The German was the first of the front-runners to stop, ditching his supersofts for fresh softs on Lap 13.
But when the grand prix was red-flagged only a few laps later, Rosberg took the opportunity to swap to mediums, while race leader Vettel elected to stay on the supersoft compound. That would prove to be the turning point of the race, with the Mercedes able to make it to the end whereas the Ferrari had to pit once more.
"The strategy was crucial, I am really thankful for that, the team did a great job," Rosberg said. "We are really strong in strategy though I don't want to single out one thing – we are strong in probably all areas.
"There was some tyre choice made during the red flag and I was glad to see that [Ferrari] were on the supersoft. I was not sure this was going to be the case. I was a bit concerned about the restart on the medium, that the tyre would be too cold, but it worked out OK. It was fine."
After a difficult start to his Melbourne weekend, Rosberg extends his winning streak to four races and leaves Australia as championship leader, a first since the 2014 Italian Grand Prix.
"These are still early days but this is a perfect start and we have to keep an eye on the red guys because they are very close as you saw today. We need to give it everything to stay ahead for sure.
"It was a great fight and a great race. I am really pleased to win the first race of the season.
"The team have done an unbelievable job, giving us this incredible car. The car has just been unreal today. We absolutely love it and are super excited."
Rosberg now has 15 career wins, which puts him level with 2009 world champion Jenson Button.
Rosberg beats Hamilton after huge Alonso crash
As it happened: 2016 Australian Grand Prix