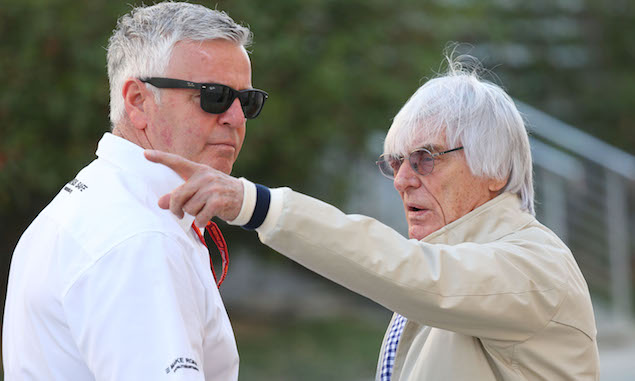 Bernie Ecclestone claims F1 drivers "shouldn't be allowed to talk" and are only interested in taking money out of the sport.
Ecclestone's comments come following an open letter from the Grand Prix Drivers' Association (GPDA) which called for a change of governance for F1, calling the current structure "obsolete". Ecclestone responded with a letter of his own at the time but in Bahrain he voiced his displeasure at the drivers for speaking out.
"What sort of interest do they have, the drivers, other than taking money out of the sport?" Ecclestone said. "I've never seen one of them put one dollar in, you go to dinner with them and they don't even pay the bill. They shouldn't even be allowed to talk. They should get in the car and drive it."
The letter from the GPDA coincided with the announcement of a move away from free-to-air television in the United Kingdom, but Ecclestone insists any drop in TV viewers will be down to the racing alone.
"Sky say that they are going to start broadcasting to 25 million people who will be able to watch it, if they want to. The problem is today is do they want to?
"I got slaughtered for saying that I wouldn't buy a ticket for a Formula One race, which is true I wouldn't. Because I know full well before I go to the race who's going to be first, who's going to be second and there's no racing that's going to happen anyway. So why would I want to sit in the bloody grandstand for with my wife and two kids or somebody else's wife, for what? To see what?"
RACE REPORT: Rosberg beats Raikkonen to win in Bahrain
AS IT HAPPENED: Bahrain Grand Prix
Keep up to date with all the F1 news via Facebook and Twitter