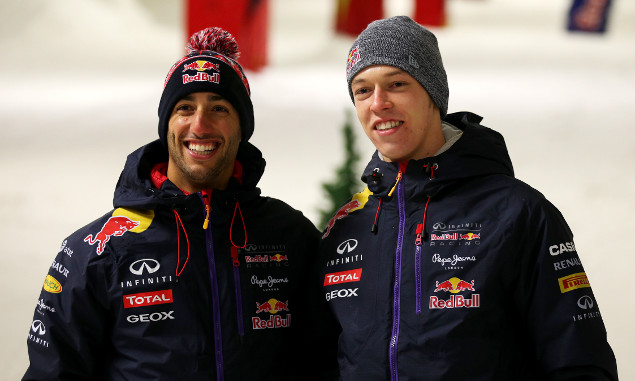 Daniil Kvyat says he is not stepping up to Red Bull with any specific targets despite joining a race-winning team.
Red Bull has won races in each of the last six years, with a run of four consecutive championship doubles coming to an end in 2014. While admitting that the step up from Toro Rosso provides him with more opportunities to win, Kvyat said he wouldn't set targets for himself for his debut season alongside Daniel Ricciardo.
"As a driver we'll always racing for that and it's a great opportunity to have," Kvyat said. "I'll just let it be and nothing else. I don't want to think about it too deeply, we have to find out where we are when the season starts and as the season goes. If we have enough pace to do it then we need to go for it as always.
"It's not a target. The aim is high but as a target I wouldn't say there is anything in particular. As a driver maybe the last eight years of my life I've been winning races, last year was probably the first year when I didn't win a race. We are all very competitive and we are all doing it for that, so we are going to push hard."
However, Kvyat said he is looking at the example of Ricciardo last year – who was immediately on the pace – as his aim at Red Bull.
"That's what you should always aim for because we're here competing at the highest level possible and I think there can't be any other choice to be honest. So I just have to keep working hard – everyone all together – and hopefully it will bring us some good things in the future."
Keep up to date with all the F1 news via Facebook and Twitter