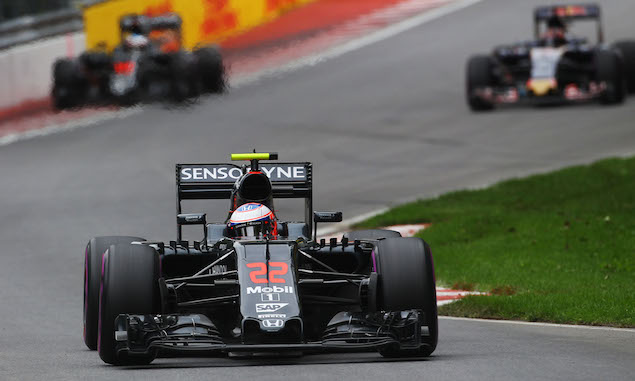 Jenson Button expects the Baku City Circuit to provide a similar challenge to Montreal, which could lead to a difficult race for Honda.
A new turbo helped McLaren remain strong in qualifying in Canada despite the emphasis on the power unit, with Fernando Alonso reaching Q3 and Button just missing out in 12th place. High fuel consumption meant McLaren was less competitive in the race, with Button retiring with a suspected gearbox failure and his team-mate failing to score.
While the inaugural race in Azerbaijan takes place on a street circuit, Button is expecting the high speeds and long lap to result in a similarly difficult race in Baku.
"After a disappointing end to what was a fairly positive weekend in Canada until I had to retire the car, I'm already relishing the prospect of the next race – and at a new track, too," Button said. "From what I've seen of it, the Baku City Circuit looks pretty cool – especially as the city centre has so much history attached to it, yet we'll be roaring over the cobbles there at over 300km/h (186mph) in the middle of the city walls.
"I'm looking forward to seeing how they've transformed the area to accommodate a grand prix race. I've heard good things from Fernando about the layout too, with some really exciting narrow sections mixed in with wider areas that should be promising for overtaking.
"It'll be tough on the car with its long, fast straight, strong loads on the ERS and high fuel consumption, so we need to buckle down and work hard to get our package set up as quickly as possible for the demands of this circuit."
Canadian Grand Prix - Quotes of the week
Canadian Grand Prix - F1i's driver ratings
Breakfast with ... David Hobbs
Technical feature: Under the skin of the Haas VF-16