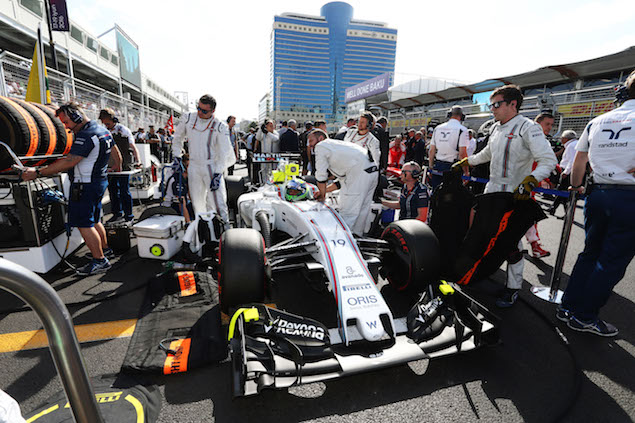 Felipe Massa believes the new-for-2016 restrictions on radio communications should encourage Formula One teams to "make things easier" for the drivers.
The FIA decided on the fresh clampdown ahead of the current campaign in a bid to give the pilots more decision-making power, following complaints that they were spoon-fed too much information over the airwaves.
The topic was put back in the spotlight two weeks ago in Baku where Lewis Hamilton was left frustrated at his inability to receive help from his team to solve engine settings problems.
Massa, whose Williams FW38 is fitted with the same Mercedes power unit as the Briton, explains why he welcomes the ban.
"I saw there were some issues in the last race but I don't really know if this is a proper issue or not, I don't think really it was a big problem," the Brazilian said. "It's normal that drivers complain over the radio, but for me it's fine, I don't see any problem with these restrictions.
"There were definitely too many things before that. We had [someone talking] all the time on the radio. I think the restriction helps in trying to make things less complicated in the car. So maybe it's what the teams will have to do, trying to make things easier for the drivers… I don't have any problem to be honest."
Massa goes on to reveal that he has already had similar experiences as Hamilton, albeit not during a race, and hints that drivers should prepare in advance to respond to any contingency.
"In practice maybe sometimes it happens that I change things in the wrong way, but maybe I had a little bit of time to understand and prepare things. For sure you have things that are complicated and you can make a mistake.
"But you can make so many mistakes in the other things as well which is normal so it's another one you need to try to do in the best way. It's not so easy to drive without making mistakes.
"You need to understand things around the steering wheel. For the moment I have not had a big problem. Everything I've done since the first race and since the tests, for me it has not affected anything at the moment."
Exclusive Daniel Ricciardo Q&A: 'I'm also the real deal!'
Chris Medland's 2016 Austrian Grand Prix preview
Exclusive Felipe Massa Q&A on a Williams resurgence and his future
Romain Grosjean interview: I can stop Haas sliding
Keep up to date with all the F1 news via Facebook and Twitter