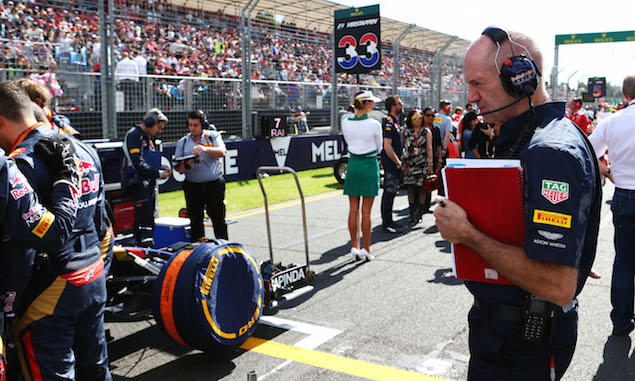 Adrian Newey says he is motived by the "opportunities" presented by the new F1 technical regulations which will be introduced in 2017.
The regulations have been designed to result in faster and more aggressive-looking cars, with lap times expected to be five seconds per lap quicker than at the start of this season, aided in part by wider tyres. The new regulations place a bigger emphasis on aerodynamic performance and Red Bull chief technical officer Newey says it provides opportunities for teams.
"It's a very different set of aerodynamic regulations and it poses a lot of challenges," Newey said. "When you first look at them, the changes appear relatively small. Although the tyres are wider, the inside shoulder is in roughly the same place, some of the box regulations are swept to give the illusion of speed - but once you get into the details then it's actually hugely different and throwing up a lot of challenges and with challenges comes opportunities."
And Newey believes the lack of major aerodynamic regulation changes since 2009 has resulted in all of the cars now looking similar to that year's Red Bull.
"The regulations we have been working to up until the end of this year obviously came in for the 2009 season, and while there have been some relatively small changes over the years, they have been exactly that.
"The cars have all evolved quite heavily over several seasons to one set of regulations, to the point of course that now when you look at the cars they all look pretty similar to each other.
"I guess it's a form of flattery to us that if you look at the original 2009 car, there has been a convergence towards that [Red Bull] car, but that of course is all history now."
REPORT: Raikkonen shows Ferrari pace on second day of test
Scene at the British Grand Prix
Silbermann says ... Radio Ga Ga
Keep up to date with all the F1 news via Facebook and Twitter