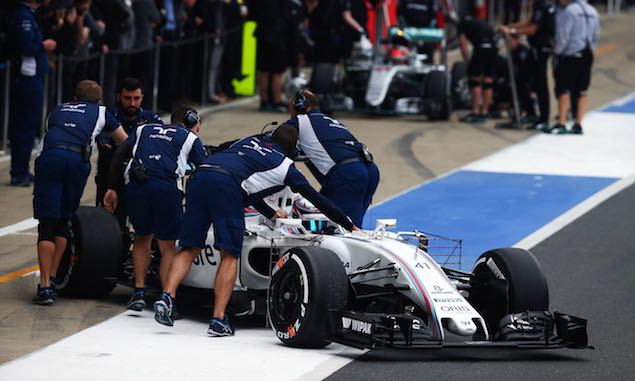 Pat Symonds believes Williams is capable of making a major step forward in 2017 as part of the new aerodynamic regulations.
After consecutive third place finishes in the constructors' championship, Williams is currently involved in a close battle for fourth place with Force India, with its advantage cut to 19 points after the British Grand Prix. Chief technical officer Symonds says the less competitive season so far is due to Williams not matching the improvements of others but he is confident the team can make a much bigger step next year.
"I think that most of our competitors improved more than we expected," Symonds told the official F1 website. "We made the improvements that we more or less had expected to make. We probably didn't set the targets high enough. Some of our competitors have improved a lot.
"But a huge factor also was that the power units got much more equal - and that is eroding some of the advantage that we had..."
Asked what that means for 2017, Symonds replied: "It just gets harder.
"But on the other hand it is also an opportunity. The 2013 car was aerodynamically very poor. The 2014 car was a major step forward under the new regulations and I have no reason to believe that we can't do it again."
And Symonds doesn't feel Williams has been overly disadvantaged by the late confirmation of the 2017 regulations so far, although he believes the bigger teams will naturally be able to work on more concepts.
"Not everything was confirmed in the normal time frame - but everybody knew what was coming. The minor little changes that we had recently really are the small bits that come out when you look at the details. In terms of the aerodynamic definition of the car, we were able to go on with that in February time.
"As for the 'halo' device, obviously we don't know exactly where that is going, so we have to catch up with that - but it's not fundamental.
"So no pain, but I still stand by what I said: the later the regulations come out, the more it favours the big teams as they have a lot of people to look at different areas. That does hurt us. But in actual fact we knew the outline of the car in February, so I am reasonably comfortable."
Scene at the British Grand Prix
Silbermann says ... Radio Ga Ga
Keep up to date with all the F1 news via Facebook and Twitter