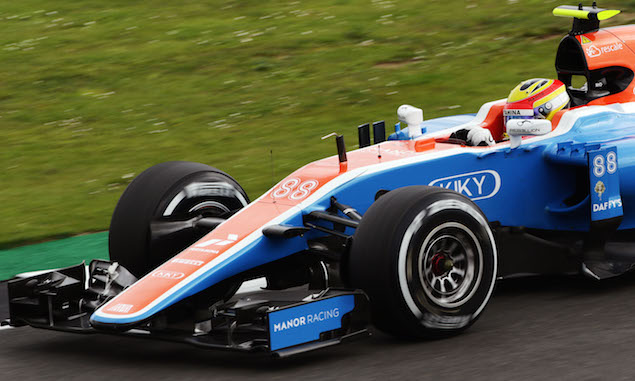 Rio Haryanto says Manor made progress with its mechanical set-up during the in-season test at Silverstone which should help it at the Hungarian Grand Prix.
After the high of Pascal Wehrlein's 10th place in Austria, Manor struggled throughout the British Grand Prix with both drivers retiring early in the race. However, the team focused on brakes and its cornering performance at low speed during the two days of testing this week which Haryanto believes yielded some encouraging results as it looks to defend its 10th place in the constructors' championship from Sauber.
"We tried some new items in the car," Haryanto said. "One of them is the brakes and that was part of different set-ups in the front. I think it was positive but the lap times weren't really representative because we were running quite high fuel. It was more a case of having good feedback and good feeling with the new items.
"We made a step with the brakes. I thought the retardation was better so I think we will take these forward for the next event. The set-up of the car was helping me a lot in the slow corners and again Budapest has a lot of slow corners. Mechanically it's a step forward for us."
Having spun out of the British Grand Prix in wet conditions on Sunday, Haryanto was also glad to be able to carry out some wet running this week to analyse where he can improve.
"At the beginning [took it easy] but then as I built the confidence back up it was OK … I think having similar circumstances from Sunday to [Tuesday] it was good to work from the race and have the same sort of conditions again. That was productive."
From the cockpit: Felipe Nasr on the green grass of home
Scene at the British Grand Prix
Silbermann says ... Radio Ga Ga
Keep up to date with all the F1 news via Facebook and Twitter