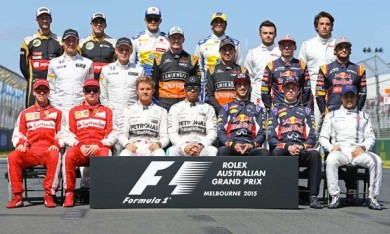 Comparing the merits of champions from different eras is always a futile exercise. There is however a measure which is not without interest: net worth.
Intelligence company X-Wealth recently released a list of the top 10 richest F1 drivers of all time, which includes both active and retired drivers.
Sitting at the top of the list, unsurprisingly, is Michael Schumacher who continues to recover at his home in Switzerland from the serious brain injury incurred during a skiing accident in 2013.
The German driver's net worth is valued at $780M and represents 43% of the combined net worth of all 10 men on the list, and more than three times the estimated worth of second placed man Fernando Alonso who clocks in at $220M.
Behind the Spaniard are Kimi Räikkonen with $180M and the unexpected Eddie Irvine whose real estate assets and stock market holdings helped the former Ferrari driver also rake in approximately $180M.
Active members of the list include reigning world champion Lewis Hamilton of course ($110m) and Jenson Button ($100M), while Alain Prost ($70M) and David Coulthard ($70M) have both amassed a considerable fortune to enjoy retirement.
Sebastian Vettel and Nico Rosberg make up the tail end of the list with respectively $45M and $30M in net worth, although their tally shall certainly increase given the extended future which potentially awaits both men in the sport.
Click here to learn about a key Mercedes power unit change in 2015
Keep up to date with all the F1 news via Facebook and Twitter