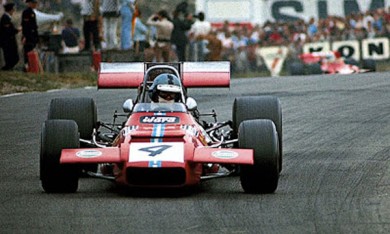 Italian car-manufacturing company De Tomaso, which originally produced various sports cars in the 60s and 70s, has often changed owners since the passing of its founder, Argentine-born Alejandro de Tomaso in 2003.
In its latest change of proprietorship, the company was acquired last week at an auction in Turin by a consortium which includes the Swiss L3 Holding as well as Lotus owner Genii Capital for a price of £1.5million ($2.2m).
One will recall that the Italian manufacturer's name was linked to Frank Williams' team in 1970 when the latter fielded a car for Piers Courage, who would tragically lose his life at the wheel of the overweight and unreliable De Tomaso 505 design during the Dutch Grand Prix at Zandvoort.
A few years ago, Genii boss Gérard Lopez, who has always been interested in acquiring an automobile manufacturer, had partnered with Bernie Ecclestone in the pair's failed attempt to take over Swedish brand Saab. He subsequently took control of German manufacturer Ruf, which produces Porsche-derived designs.
Although no plans to associate the De Tomaso brand with Genii's F1 activities have yet been announced, the business exchange platform will certainly lever its F1 presence to promote the Italian marque's image and products, while a renaming of the Lotus Team could also be in the works.
The team's current deal with Lotus Cars allows it to merely use the Lotus name in F1 until 2017. Upon the termination of the agreement, it may then bring in the De Tomaso name as a replacement.
"De Tomaso is a prestigious automobile name," said former Lotus F1 manager Patrick Louis who handles Genii's automobile investments. "We now must manufacture our first model and demonstrate its qualities. We plan to produce up to 4.500 cars a year from 2019 or 2020."
Click here to learn about a key Mercedes power unit change in 2015
Keep up to date with all the F1 news via Facebook and Twitter