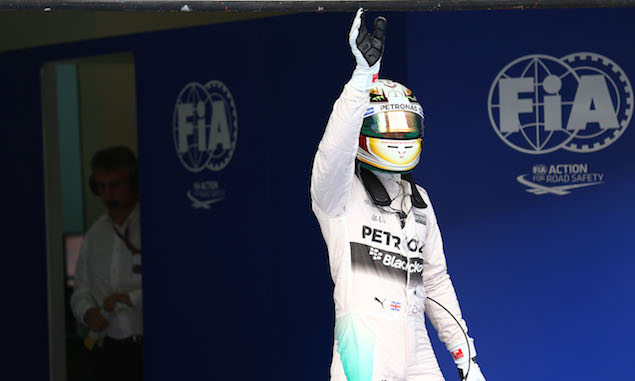 Lewis Hamilton says he is proud of his pole position lap after edging out Sebastian Vettel in qualifying for the Malaysian Grand Prix.
With heavy rain delaying the start of Q3, the track was dry enough for intermediate tyres by the time drivers started their flying laps. Running last on the road, Hamilton went 1.2s clear of the field with his first attempt and was unable to improve later in the session.
Fortunately for Hamilton, his first time was enough to beat Vettel by 0.074s as the Ferrari improved late on, and he says he was pushing hard despite not wanting to ruin his opening attempt.
"I think the first lap was quite good," Hamilton said. "It's always difficult because you go out and none of us have driven this weekend in the wet so the first lap is always just the unknown. You don't want to take too many risks that you don't get the lap but you need a banker. My lap was feeling pretty good so I was pushing.
"The next one was up at one stage but then I lost a little bit on the lap but generally a fantastic job from the team to have us both up here again."
Asked if he had been held up by Rosberg at one stage as he had to pass his team-mate at Turn 7, Hamilton replied: "I don't really remember, so obviously not!"
And Hamilton explained Mercedes had opted to run the medium tyre in Q1 as it worries about a three-stop race on Sunday if the weather stays dry.
"It always generally is [tough strategically] here. Last year we had a three-stop and it's very, very tough on the tyres here, particularly with these hot temperatures. Plus the race comes earlier so it's even warmer if it is dry so it's going to be a real challenge for everyone, including the car but also with the tyres and the strategy."
Click here for three reasons why Honda is struggling at the start of 2015