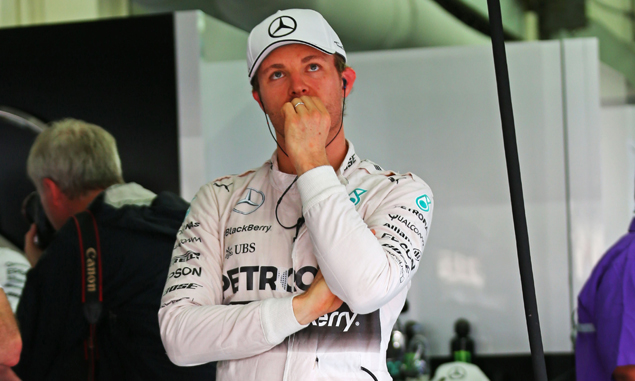 Nico Rosberg admits he did not wring the best out of his W06 Hybrid in qualifying for the Malaysian Grand Prix, as the Mercedes driver had to settle for P3 behind team-mate Lewis Hamilton and Ferrari's Sebastian Vettel.
The 29-year-old had kick started his Saturday in fine style by topping the timesheets in the third free practice session. Rosberg was even leading the field in Q2 after a well-timed pit lane exit enabled him to have a clear track as rivals jostled for position to set a time before the downpour.
However, the German failed to carry on the momentum into the delayed final part of qualifying and eventually finished more than three tenths adrift of Hamilton and Vettel despite improving on his final intermediate-shod run.
"I just did not drive well enough, that's why I'm annoyed by that," said Rosberg.
"Third place is not good for tomorrow but that's the way it is. It was quite interesting conditions out there because there was so much grip, it was unbelievable. There was seldom so much grip in wet conditions. It was very unusual. It was good to drive but (I was) not quick enough.
"For tomorrow, third place, it's on the clean side of the grid so maybe that will… well that should definitely help me to get by Sebastian at the start.
Rosberg also candidly reveals that he was trying to obtain extra information about his rivals' racing lines on the damp track, but the 2014 runner-up fell foul of the FIA radio clampdown that bans any message helping a driver improve his performance.
"Because it was an unusual situation out there, which we haven't practiced, I was just interested to hear what the guy who was first did in terms of lines and I did not know it was Lewis so I just asked:'What lines was he doing? Was he doing normal dry lines? Or more towards wet?' But that information is banned so I got a reply: 'Can't tell you'."
Click here for three reasons why Honda is struggling at the start of 2015