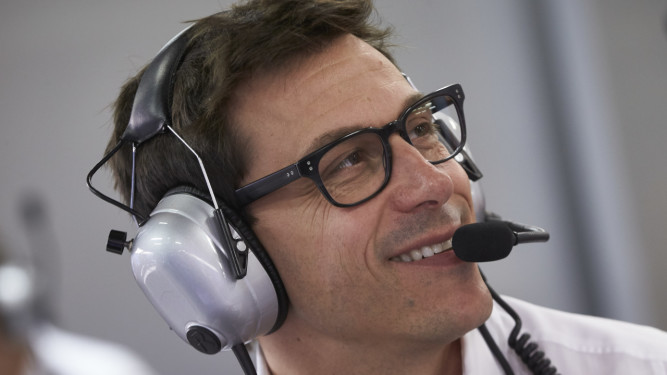 Mercedes boss Toto Wolff believes that huge opportunities lie ahead for F1 but cautions against implementing decisions without proper due diligence.
In an interview published on Mercedes' website, Wolff says that the management team now at the helm of Formula 1 boasts one of the most outstanding track records in business.
"If you look at the track record of Chase (Carey) and his colleagues, it says everything," Wolff said in an interview published on the team's website.
"They are experts in TV rights, experts in US sports and they have hired experts in Formula One to cover  that blank spot.
"They have done just the right thing, hiring experts in  their respective fields. Ross (Brawn) has been in Formula One forever and has seen the sport from the team side.
"He is going to give them the right guidance, together with the teams and the FIA, to develop the sport in the right direction – staying true to its values.
"But, equally, assessing the areas that function well and the areas which we should be developing together in order to grow the sport even bigger."
Wolff is confident that F1's executives will have a firm handle on the modern tools necessary to form and sustain a positive image of the sport, and cater accordingly to the fans.
But it should all happen one step at a time, and caution is necessary.
"I think we need to acknowledge that Formula 1 is a technical sport, so it will always polarise.
"There are people who will say that they hate it and others will say that they love it. That is OK. But one thing is for sure - we shouldn't make it a beta test.
"We shouldn't mess with our loyal fans and our audiences by implementing rules and regulations that we haven't assessed properly.
"We should use data in a scientific approach and see what works in other sports and other entertainment platforms, then combine that with the great strengths and assets of Formula 1.
"I'm very curious and optimistic as to what the future holds. But one thing is for sure – the wheels turn very fast and yesterday's news doesn't interest anybody any more."
GALLERY: F1 drivers' wives and girlfriends
Keep up to date with all the F1 news via Facebook and Twitter