The first 12 months
Well-known as Felipe Massa's race engineer at Ferrari, Rob Smedley was keen for a bigger challenge and in the summer of 2013 decide Williams was where that challenge was waiting for him.
Eager to learn from the vast experience of chief technical officer Pat Symonds, Smedley made the decision to head for a team which had been - in his own words - "punching below its weight". Not a believer in any team being able to punch above its weight, only maximising its potential, Smedley had to wait until the Bahrain Grand Prix in 2014 to join the team at a race and really get stuck in to his role as head of vehicle performance.
"Definitely the overriding emotion was that I was excited," Smedley tells F1i one year on. "I wanted to get back to work and I was just really keen to get in there and kick the project off from my point of view. Once I'd made that decision that I was going to come here then I was just fully focused on this job and this project really, getting Williams back on top of Formula One. I was definitely excited, definitely up for it, not nervous."
Having been able to take a watching brief as Williams competed in the first two rounds of 2014, Smedley was busy analysing what he would need to do when finally let off the leash at Grove.
"I had been doing that since mid-2013 really, when I made the decision that I was going to come to Williams. So that was kind of an evolutionary process if you like. I was constantly thinking about certain aspects of the job and where that was headed, what I had to do at the track in terms of operations, what I had to do back at the factory in terms of car performance and car development.
"It was really trying to think to myself and discussing with the people who were at Williams at the time about certain aspects of the way the place was organised, thinking about how we can do it better. Because it's always important when you go to somewhere new to do things better and not just do things differently. It's very easy to walk in and say: 'Oh we need to do this because this is how I've done it in my past and this is how Ferrari do it', and they would quite rightly turn round - well they might not because they're quite polite - but they might think to themselves you've got a very short shelf-life with that, because people just think: 'Well, we're making all these changes and we're not actually going forward'.
"So it's important that you have time to observe, really, thinking about what you want to do with the organisation, what you want to do with the groups of people and how they work together and how to start distilling a sense of motivation and a sense of pride in the place. So it was a long process of thinking about that and trying to give a little bit of direction from the bigger picture of what I would be doing when I got here."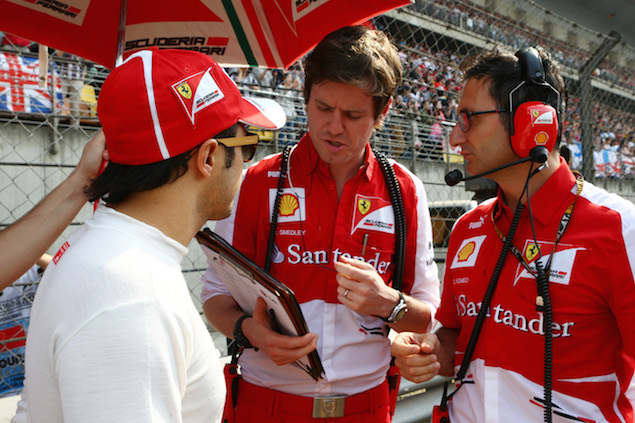 Motivated to be able to work alongside Symonds, Smedley was keen to set out a direction for Williams which he could help be the driving force behind, and his first year in the job has seen the team cement itself as a front-running outfit.
"There were a lot of discussions with Pat over the winter on a non-technical level about how we were going to be organised and how that was going to work. It's actually better, it's much better. I think part of that was that it was a team that was ready for some direction. With the new people that came in, primarily Pat obviously, we've given it direction. The people here, they wanted direction, they needed direction and they were ready to accept some pain as well to get through it. We're on a journey, we're nowhere near the end of that journey, we're nowhere near the final conclusion but we are definitely on that journey and we're still on it.
"It's important now that we've put ourselves in to what I would say is quite a favourable position last year, definitely with respect to the year before. For various reasons, it's never one reason. And I think the great thing about this year is the fact that if you take the first three races, OK we finished last year arguably second quickest but I think it was nip and tuck depending on the circuit between us and Red Bull. And we've maintained that gap if you like to Mercedes, which is quite encouraging even though we need to close that down eventually, and Ferrari has made a huge improvement.
If you give this group of people the quickest car then they'll get first and second with it now, and that's where we need to be
"But I think if you take it in the grand scheme of things, apart from Ferrari then we've positioned ourselves very well and shown that we can still run at the front in Formula One. That's the first part which is really encouraging; there's development to do and we want to get back in front of Ferrari, there's no doubt about it. The second part is we've come and we've pretty much nailed every single event. Where we could get the points we've got the points. OK we didn't get all the points we could in Australia, but as an operations team there's not really a great deal you can do about that. I just think this team operates so much better.
"I said after the China round that if you give this group of people the quickest car then they'll get first and second with it now, and that's where we need to be. If this car is good enough for fifth and sixth then we need to nail fifth and sixth every single weekend. While we're doing that then obviously we are hopefully making inroads in the people in front and creating a bigger gap to the people behind.
"So I've really seen the place move on massively in 12 months. Hugely. There's a sense of belief as well in the people. When I arrived one of the biggest things that was lacking was a sense of belief. They didn't believe that they could run at the front, they didn't believe that they could get podiums, and now that's a given. Where we're running now, we're the third quickest car, it's a given. When we get on the podium - hopefully sooner rather than later - it's a given. The next step is to get race wins and be able to do that consistently."