For an F1 rookie, the first race is always a special occasion. But for Carlos Sainz Jr, there are likely to be even more emotions than most experience when sat on the grid waiting for the lights to go out in Melbourne.
Sainz Jr will form one half of an all-rookie line-up at Toro Rosso this season, partnering 17-year-old Max Verstappen at the junior Red Bull team. They both enter Formula One with high expectations, even higher levels of interest and fathers who have competed at the top level of international motorsport.
The name immediately highlights the fact that I'm talking about the son of two-time World Rally champion Carlos Sainz. But it's the name of a different double world champion that left him wanting to go fast behind the wheel of a Formula One car…
"It's quite weird; thanks to Fernando [Alonso] I'm here," Sainz Jr told F1i. "Without Fernando winning in 2005 I wouldn't have started my dream of becoming a Formula One driver because I wouldn't have become engaged with Formula One.
"That's why it's very weird to have your hero next to you on track. It's special, and they are special moments when you realise you have done things correctly. It's a very big satisfaction on a personal level because you feel you are up there with your heroes."
Sainz Jr earned his Toro Rosso seat by taking the Formula Renault 3.5 title last season, becoming the youngest driver to do so having only turned 20 in September. While keen to point out he is still young himself - despite the focus on team-mate Verstappen - he readily acknowledges it was maturity that Red Bull was looking for when it placed him in World Series, wanting him to show that, like Alonso, he could put together a complete season.
"When Red Bull confirmed me to drive in 3.5 I saw that as my last chance for F1. I was quite realistic, and everyone in my family and my surroundings was too. We said 'OK, 2014 is everything or nothing'. If I win World Series I will probably get the chance to drive in Formula One in 2015, but if I come second I won't.
"So it was a tough moment that I had to go through, but Formula One was always, always, always in my mind and I saw it as a possibility.
"I think Red Bull before 2014 looked at me as a very fast driver, a very talented driver who could do really crazy things - really good, crazy things - but they never saw the consistency that a world champion has to have throughout a year.
"So my main focus for 2014 was to apply all that talent that I have into a consistent way, to find a way both mentally and physically to apply my talent as consistently as possible. I think thanks to that is how we achieved the World Series championship."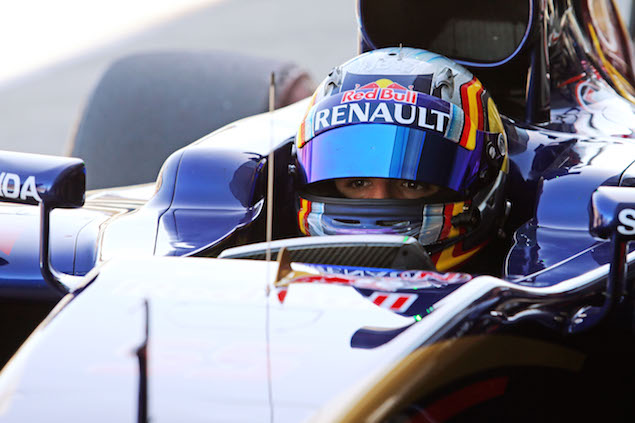 Entering Formula One, Sainz Jr knows he will need all of the skills he has honed in the junior categories and more to be a success, especially driving for Toro Rosso; a team where two out of three drivers fail to find another F1 race seat when they leave. Red Bull is looking for future world champions, not future race winners, when it sends young drivers to Faenza. As a result, Sainz Jr has been using Alonso as a reference for all of the new aspects he will have to deal with outside of the car.
"Sharing one day with Fernando - even as simple as going for dinner, or lunch or playing sport together - you learn many things. It's not like I received tips of how to drive Jerez from him or how to drive a Formula One car, that is out of the picture.
"Just by being with him I know what his attitude is towards life and how it is towards a team. I can learn from this and apply it to my own areas and my team."
When the lights go out in Melbourne, Sainz Jr will be trying to make the name his own, get the better of his highly rated team-mate and beat the man who inspired him to race in the first place. Its a tall order. But when asked about the prospect of becoming the next driver that young Spaniards will look up to in the same way he idolises Alonso, he smiles: "Wow, that's big.
"I still think all the kids in Spain are watching Alonso as their main reference. My job now is to become Formula One champion one day and hopefully this will make all the kids start looking at me."
Click here for the full gallery of the first photos of the STR10
Keep up to date with all the F1 news via Facebook and Twitter