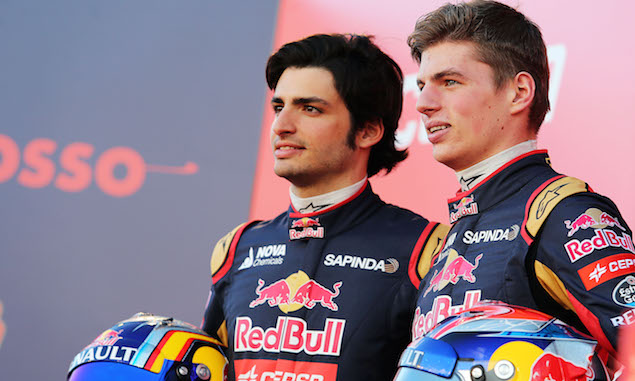 Carlos Sainz Jr admits he has been happy to allow Toro Rosso team-mate Max Verstappen to have the limelight over the winter due to his age.
Verstappen will become the youngest ever Formula One driver when he makes his debut at the Australian Grand Prix next month, with the 17-year-old having completed just one year of single seater racing. However, Sainz Jr forms the other half of an all-rookie pairing at Toro Rosso and he says he has enjoyed not being the focus of as much attention despite only being 20 himself.
"It's not a worry, it's not a bad thing for me for you guys to focus on Max," Sainz Jr told F1i. "It's been quite an easy winter for me. In the end you need to think that Max is very young but I am also very young. I've just become the youngest ever World Series by Renault champion and it looks like I'm old!
"It's not easy to become the youngest ever World Series champion with record victories and being the youngest ever with a record number of fastest laps in a single year. I don't see it as an easy task and that's why I'm very confident this year that I can do a good first season in F1 thanks to that. I think I'm arriving in F1 in a good position and can have a good first year."
But Sainz Jr says he doesn't feel there is less pressure on him just because of the increased interest in Verstappen so far.
"The pressure once the season starts will be exactly the same for both of us. I think everyone will forget about our ages when the lights go out in Melbourne, we will both have the same pressure from the team to perform.
"The team is not expecting me to perform better than Max because I'm three years older, they're expecting both of us to perform at the same level. At the end of the day if they have chosen Max and myself it's because they believe we can both perform at the same level."
Click here for the full gallery of the first photos of the STR10
Keep up to date with all the F1 news via Facebook and Twitter