F1i's Eric Silbermann sits down with Sergio Perez to learn more about the man who will be the centre of attention at this weekend's Mexican Grand Prix
You don't need to be clairvoyant to know that we are about to experience a crazy weekend in Mexico City. All forms of motor sport are a big deal in this country and there's a real passion for fast cars and fast driving, as you will discover if you don't spend every taxi ride with your eyes tight shut in terror. As for the race fans, the word enthusiastic won't do them justice, they'll be up there with the Brazilians on the cheering and booing front.
With Sergio Perez on the podium in Sochi prior to finishing a strong fifth in Austin, any tickets not sold are bound to go fast. Plus on Friday we can expect the announcement that Esteban Gutierrez will be racing for Haas next year, even though, if you want my opinion and even if you don't you're going to get it, if they wanted to put a Ferrari-linked driver in the car Jean-Eric Vergne might have been a better choice. But money talks and the Frenchman doesn't bring a crock of that famous Mexican silver with him.
As for "Checo" - all Mexicans called Sergio get that nickname - he's on the crest of a wave right now with those two strong finishes, so it's no wonder he's looking forward to this weekend, having visited the remodelled track earlier in the year.
"It was really nice to be down there and have a look," he confirmed. "I just can't wait to be there with my home crowd. All the people that will be there have supported me for so long in my career, so I'm looking forward to share a nice moment with them. The track looks very nice, particularly the stadium part which is really tight where you drive through the grandstands. That should be a great feeling with lots of Mexican flags. It will be an extra motivation to do well and it will be very motivating. I will be using the energy from the people to do as well as possible for them."
For the past three years, Mexicans have headed to Austin for their F1 fix, but now for the first time since 1992, they get their own race. But you need to go back even further to find a Mexican racing in Formula 1 prior to Perez and, for a brief while Gutierrez. Perez knows his history: "The last guy was Hector Rebaque.
"I mean, it's well above 30 years so to go back to Mexico and give a race, it will be very, very special for me and I'm so much looking forward to it. We love Formula 1 and we're really passionate about the sport. Historically, when you look back, it's a sport that Mexicans love."
For the Mexicans to have seen a Mexican driver compete in Mexico, you need to go back even further, almost to the dawn of time, otherwise known as 1970, when Pedro Rodriguez last drove there.
This weekend's GP, at the track named after the legendary Rodriguez brothers, is a home race for Sergio, but Mexico City isn't his home town.
"I was very fortunate as a kid to have grown up in my city of Guadalajara, around my friends and my family, even if I left Mexico quite young and moved to Europe as a teenager. I had to sacrifice a lot of my childhood but it's been worth it when I look back. I would do it all again if I had to."
With a father who loved racing and who took his kids to spectate and an older brother, Antonio, who races in Mexico's NASCAR Toyota series, it was inevitable that Perez would follow the same path. "My brother started earlier as he's four years older than me. Obviously, as he was the oldest, the younger brother normally always follows what the older brother does so I started to race too."
If Perez hadn't been a racing driver, we might well have seen his name gracing the back of a football shirt, or believe it or not, a lawyer!
"Yeah, I like law. I like the work of a lawyer and I also like football so one of those jobs would have been possible or something else involved with sport."
Those who know about these things reckon Checo could have played football professionally…
"Yes, that's possible," he says without too much modesty. "I wasn't bad back then. Probably only in Mexico even though the standard is quite high, but not in Europe in a very strong team. But you never know."
There's fraternal rivalry on the football front, because while his brother logically enough supports the local Guadalajara team, Sergio cheers for Mexico City's Club America.
"I never liked the Guadalajara team and I went for the big team," he recalls and when I suggest I might leave that out of this interview, in case it gets him into trouble, he insists on pressing home his point. "No, I really didn't like the team and I was always inspired by all my cousins, to follow the Mexico City team, the popular team."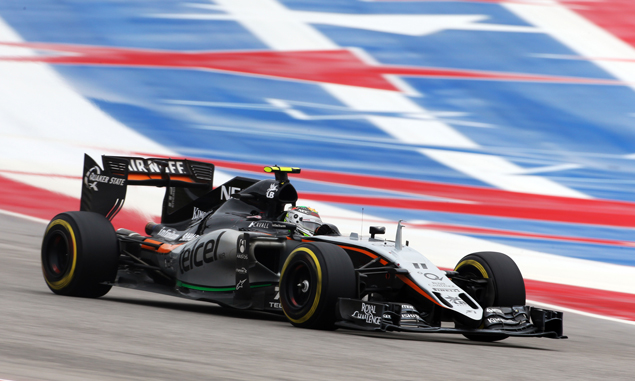 That last remark goes someway to explaining why Sergio Perez can be a prickly single-minded character. After coming through the Ferrari Driver Academy, he joined Sauber in 2011 and, even if the results were nothing to write home about, he gained a reputation for being a master at tyre management, often delivering significantly longer stints than his rivals. The following year he seemed to be heading for a win in Malaysia, but had to settle for second behind Alonso. In those days and then in 2013, when he joined McLaren, you took on an interview with Perez at your peril. His time with the Woking outfit was the nadir of his F1 career to date: he wasn't popular with the team and Jenson Button questioned his driving style - that's the polite version!
The switch to Force India has seen him re-establish his reputation and the surly interviewee has been replaced with a charming, affable and approachable young man, someone with enough of a social conscience to have set up the Checo Perez Foundation, which supports underprivileged and orphaned children in his home country. Family is important to Perez.
"My family is my engine," he says. "They really give me a boost when I'm close to them and when I feel their support. Otherwise, I wouldn't enjoy the sport if I wasn't close to my family, so for me, it's very important."
Perez's was always a precocious talent and his first big break nearly didn't happen, because he was too young.
"I had a collision with another driver and they took my licence away and so I didn't win the championship"
"When I was around 12 or 13, I had a special dispensation to race against drivers who were 20, 25 years of age. But I had a collision with another driver and they took my licence away and so I didn't win the championship. The prize was a test drive in a Skip Barber National Championship car and if the school thought you were good, they would keep you and send you there for one year. So I lost the championship and I thought my career was over, but they called me and said, "We still want you to do the test." So I went there to do the test together with the champion of the series and I beat him and everything started there."
If you manage to read anything other than the sports pages, you'll know Mexico has its problems right now and Perez doesn't shy from admitting it.
"I love my country and I'm very proud to be Mexican and to represent my country," says the Force India driver. "I love the culture, I love everything about it and I want the world to see how good we are. Since I was a kid, all my family put in my mind that Mexico was great. You're right, people on the outside just talk about the problems in Mexico. That's why I'm so proud now that we managed to have a Grand Prix again, because Formula 1 will put us on a different level as a country and we'll show the world how good we are. Obviously, we have our problems, like any other country. You see in the news terrorist attacks all over the world and things like that and Mexico also has problems but if Mexico didn't have problems, it would be paradise!"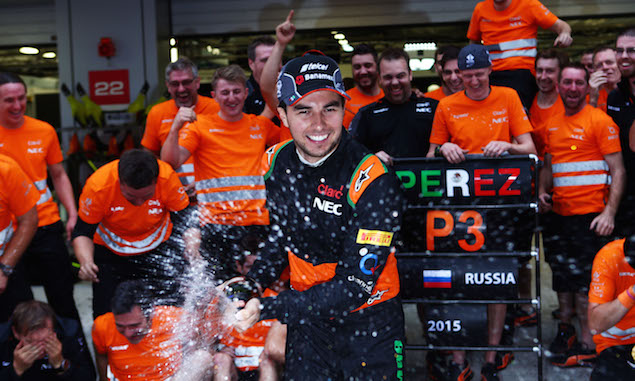 Whatever car he's driving, a religious icon comes with Perez in the cockpit.
"Religion is a very important part of my life. I'm Catholic and so I grew up with it. When I was young, about ten years old, I went with my family to the Vatican. The Pope at that time was Juan Pablo II, and he touched my hand. Since then, I've felt a really strong connection to him, very, very strong and I felt that he has always helped me, together with God. It's just what I believe in. I feel very blessed."
FIA set to allow new engine in 2017 after Ferrari blocks cost capping measures
Lewis Hamilton: Three-time F1 world champion
United States Grand Prix - Driver ratings
Click here for the F1 drivers' girlfriends gallery
Keep up to date with all the F1 news via Facebook and Twitter