Former Manor president Graeme Lowdon speaks exclusively to F1i about leaving the team, reflecting on six years in F1 and protecting the Manor name
Your time at the current Manor F1 Team is over, what were your emotions after Abu Dhabi?
"Mixed emotions, a sense of achievement that the team is still here, and some very, very fond memories. I've met some great people, been racing with some fabulous people and racing teams are all about the people so that's really probably the strongest memory, the team spirit that we've had. Time to move on, but definitely mixed emotions."
So what's next for you?
"I really don't know, I've been so focused on just the last few races and everything, running these F1 teams does take a bit of time so I've been really focused on that and nothing much else! But I've still got fuel in the tank and I'm always looking for a challenge. I've learned an awful lot in the last seven years so would be really keen to see what challenges are out there and see what's available."
Reflect on your time with the team; it's the only one to still be here that entered in 2010, so how proud are you of that fact?
"Very proud. The fact that others didn't make it just shows how difficult it has been. We have had to navigate some very odd situations. Managers don't get paid for allowing the inevitable to happen, they get paid to make a difference. We have been presented with some enormous challenges - financially, managerially and emotionally - over the last seven years and I think everyone involved should be really proud of what they've achieve. There have been highs and lows, obviously, and lots of really, really good memories."
What has been the biggest highlight?
"There has been a number along the way. Getting the entry, seeing the first two cars drive out of the garage in Bahrain in 2010, there has been a lot of ones like that. But without any question the most cherished memory is celebrating with the whole team and Jules Bianchi in Monaco. Really special memories and something that I will cherish forever. People don't understand I think just how difficult this game is. It's quite a simple sport, you get told where and when to turn up, you get a set of regulations and all the rest of it but the simplicity of it is actually what makes it so difficult.
"You're competing with the world's best racing teams and what was achieved by a small bunch of people not just in that race but in every race we have done was something really special. It was great to actually get some rewards in that race. We had some special memories celebrating with some really special people. Sadly not everyone is still here and that's without any question the lowest point. We've just met some very, very special people and have certainly some memories that will last for a long time."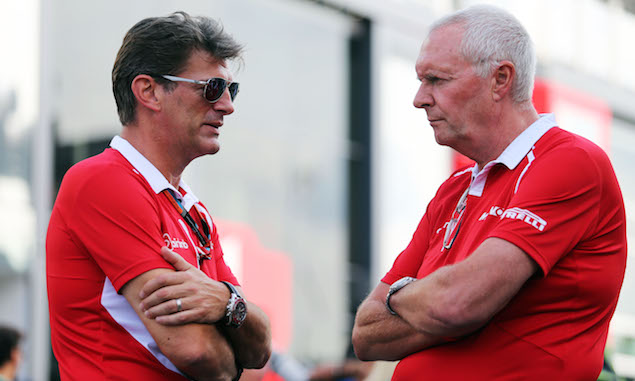 If it is still carrying the Manor name will it still be a team which you are looking out for fondly or does it no longer feel like your team when you're stepping away from it?
"If it's anyone's team it is John Booth's and Mary Booth. Manor has had an incredible history. One thing I was really happy about in Abu Dhabi was to see two Manor drivers on the podium in Lewis Hamilton and Kimi Raikkonen. There are some people who have had their futures certainly influenced by John along the way and that was nice to see but I think if anything Manor is all about a way of doing something. It's certainly focused on racing but it's about how you go racing and that really defines what Manor is. It's a great name and I'm delighted to be associated with it and will continue to be so."
If you are to appear elsewhere in F1, is it crucial to you that it's with a team with the right ethics?
"Yeah, that's what Manor is all about. You build it around racing, you look at the history of Manor, some of the greatest races that Manor have had have been with guys who are now at the pinnacle of the sport. We've come in during a difficult period of Formula One and I think everyone involved in what we've done should be really proud. There is a lot of hard work that has gone in. It has always been run from the heart at the end of the day, if there's no passion and emotion in this game then basically all you're doing is watching cars go round in circles and you can sit by the M25 and watch that. I know for nothing that nobody wants to pay to watch that. This is all about the passion and the emotion, if you take that away there is nothing there. So I think that is what Manor is all about."
Three F1 seasons in one - Pirelli boss offers radical scheduling plan to save F1
Exclusive pictures of the Mercedes power unit
Use the red tabs on either side of the screen to scroll through more Formula One news and features
Click here for a gallery of the McLaren MP4-X
Keep up to date with all the F1 news via Facebook and Twitter