In the first of a regular series, Eric Silbermann visits the Force India factory at Silverstone to find out just what happens within an F1 team during the off-season
When it came to deciding on a team to follow over the winter weeks leading up to pre-season testing, we took many factors into consideration; professionalism, technical rigour, an open approach to the media and finally, location. Ticking all the boxes was Force India, with the clincher being the fact its factory is a mere twenty minutes by Ducati from my office.
I knew we'd made the right decision as soon as I entered the office of the team's Chief Operating Officer, the Big Kahuna himself, Otmar Szafnauer. There was the boss immaculately suited and booted, issuing efficient instructions to an equally well turned-out PA. "Good to see you Eric," boomed the American. "Drink? Tea, coffee, whiskey?" That's my kinda guy! Whiskey before noon, which, in the interests of journalistic discipline, I turned down. Maybe next time, just out of politeness of course, as India's "Royal Challenge" whiskey is prominently displayed on the side of the Force India cars.
While a scowl is often the default facial expression for F1 team bosses, Szafnauer tends to effect a welcoming smile more often than not and given how well the team did in 2015, he can legitimately keep the grin in place at least until winter testing.
Our target is to start the year as competitive in '16 as we ended it in '15
"Yes, 2015 was our best season ever," he confirms. "And there are some things carrying over that will help us going into 2016, like stable regulations, the fact that we have the same two drivers that we know and love. The technical personnel have pretty much stayed the same. All of our senior guys are the same. Therefore, our target is to start the year as competitive in '16 as we ended it in '15 - that's pretty much our goal, and we're working hard at doing that. Because we finished fifth not sixth, the income should go up a little bit and we're working hard on attracting new sponsors, which should be a little bit easier, given our 2015 track record."
Pausing briefly to take in some off the office décor – a Mexican sombrero and a suspiciously half-empty jar of mixed salted nuts – I posited that fourth in the Constructors' in 2016 should logically be the next goal…
"It's hard to know because we don't know what our competitors are doing," replied Otmar (if you think I'm going to write Szafnauer all the way through this piece you've got another thing coming.) "One thing is we got a taste for being on the podium. I think we want to do that a little bit more in 2016. Where we're going to finish is hard to know. We don't want to go backwards. It's going to have to be fifth or higher, that's for sure.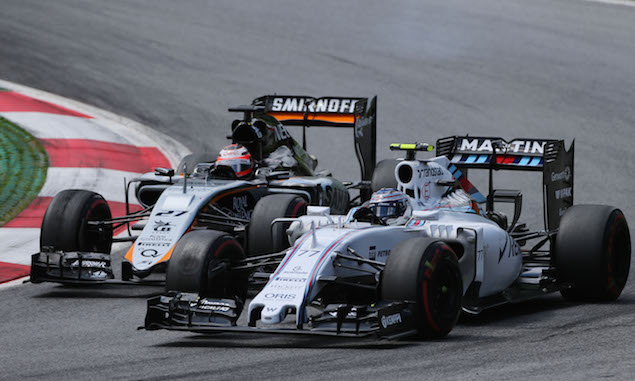 "Having said that, Toro Rosso are moving to a new engine partner and I think they'll be competitive. Haas is an unknown, but from what I understand, they're going to get a decent package from Ferrari. They'll have two good drivers in [Romain] Grosjean and [Esteban] Gutierrez. Renault has now bought Lotus and I'm sure they're going to be pouring resources into that team. They'll be a competitor of ours for sure. If they do well, they're going to be difficult to beat. Williams, they've got good infrastructure, a lot of people, a lot of smart guys, good drivers and a Mercedes power train. I think the competition will be fierce."
As this is meant to be a diary story about an F1 team preparing for a new season, the conversation switched to one of the great mysteries of life, up there with what does the man in the moon do during the hours of daylight; namely how does an F1 team boss occupy his waking hours?
"I started today with a quick discussion with the technical director," elucidated Otmar. "I am a qualified engineer and worked as one at a motor company for quite some time. The discussion centred around what the launch car is going to look like and what the upgrade's going to look like before we go to Australia. Then I had an hour-long meeting with our commercial director to find out where we are, what sponsors we've signed, which ones are close, which ones aren't so close, when do we plan on signing them and for how much. Now I'm talking to you, then I'll have a quick discussion with our legal person to find out where we are on some of our contracts for next year.
"At three o'clock today, we've got our weekly meeting where we review what we've learned in the wind tunnel and what direction we're taking, so if I know what our strategic plans are, I can put that into the discussions at the wind tunnel. Although I'm not an aerodynamicist, if I sit there and think, "Should we really be doing this?" I'll ask the question. If the technical team can easily answer and say, "yes, for this, this and this reason," then I feel good that we should be doing it. If they stutter and stumble and are unsure, then I could question their decision and challenge them sometimes: 'Where do you think we're going to be relative to the others?' 'We don't know.' 'Do you think it's going to be good enough to reach our targets?'
"Plus it's always good for our technical team, who are removed from this building because they're in another one seven miles away, to see the boss and think. 'yeah, he cares.' They ask me questions - 'What are we doing on this?' They only get to work on one piece of the pie so they sometimes want to know what the other pieces look like. How are we on our financial footing? Are we OK? Can we keep pushing? When are we going to switch over to 2017? Those types of questions."
There's no doubt that Force India did a good job last year, securing fifth place in the Constructors' Championship, so it points to a basic flaw in the structure of the sport that Otmar cited money, when asked what the team's main difficulty is right now.
"Our biggest weakness is the financial resources that we have at our disposal and the ebb and flow of the cash, but we're working on it.
"It's racing and you spend every penny you have on performance. It's just the nature of the beast. It's even more of a factor when you know there's performance out there that you can't afford. Then you work even harder at getting that money so you can afford it. But you're right, the distribution should be maybe more equitable.
"If we had different distribution and Force India in fifth place, got a little bit more money, a little bit closer to what the top teams get, then we'd know where to use that money for performance and we'd be closer to them, but I think with the little bit that we spend and have to spend, we haven't done a poor job. We punch significantly above our weight I think. I think we spend less than anybody, apart from Marussia, and we finished fifth. How many points did Marussia score? Zero. What did we score? 136.
"I always say, this is a war. To win a war, you've got to have good soldiers and the right guns and ammunition. If our soldiers haven't changed, which I've told you they haven't, and if you have the right guns and ammunition, you should be performing. If you're not, something's gone wrong. It's not magic. The general needs to have a good plan and I think we've got that good plan. We know what we're doing there. But, if you take our ammunition away or the guns, you can't expect us to win the war. The guns are the infrastructure!"
Spoken like a true American, Otmar!
Next week we'll be speaking to Force India's race team co-ordinator Franco Massaro about the logistical challenges which are faced ahead of a new season
Keep up to date with all the F1 news and features via Facebook and Twitter