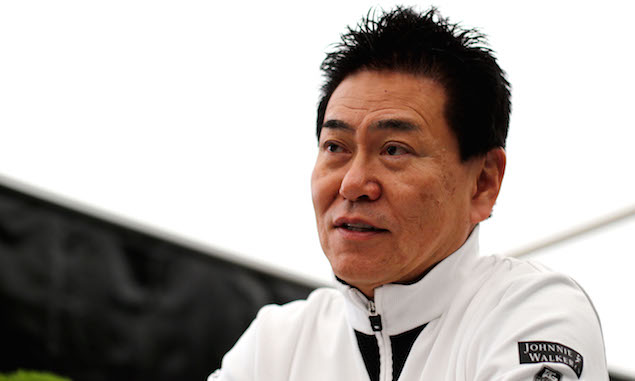 McLaren-Honda endured another frustrating test at Barcelona over the past four days, completing just 124 laps as an issue with an MGU-K seal hampered its running. During the test, Honda motorsport chief Yasuhisa Arai sat down for an exclusive interview with F1i editor Chris Medland to explain the problems the engine manufacturer has been facing and outline his hopes for the coming season.
How frustrating was the MGU-K problem?
"It's a quality issue, not design related. So our design is part of a very tight package for aerodynamics and it's a very good design, but some sealing parts have some not so good quality so that's the seal problem we had. [On Saturday] we got another part and put it on the car and made it run very well."
So are you happy with the new part?
"It's not the final part, it's just a temporary fix. We're still investigating how we can improve the quality with the target of Australia."
Is quality control just part of the learning process with a new engine?
"Yes, we learn a lot day by day. We always find problems like a pop-up game, and we think we've closed one problem and another one pops up. It's very busy, you fix one problem and then you find the next one, and then the next. We need more time."
How much work do you think has been done with the engine so far as a percentage? Eric Boullier said the team is about 50% behind…
"The car as a race car I think I have the same feeling as Eric. But the engine design work is almost finished, we can homologate next week but the data setting is still at the baseline. So things like the fuel injection, ignition timing, turbo pressure, there is a lot of data that we have to fix but not yet. We are still working day by day checking data and looking at the data to see what is good and what is not. They are very tough days that we spend doing that."
Will it all be done by Melbourne or will some work need to be done in Australia?
"We've made a big effort and I hope we will fix it by Australia, but maybe during the season we can change based on the data again."
Would having a second team have helped this pre-season?
"We don't have any offers from any team to be a second team. Maybe it's because they think there's something a bit mysterious about Honda. They don't know our base capabilities, but yesterday it showed them a little bit of our good capability and good feeling. Before that they don't know, maybe they whisper about 'that mysterious Honda'."
Can you see yourselves supplying a second team in 2016?
"If someone comes to us … but it's a very difficult question because I am wondering can we prepare for supplying a second team during the season? I don't know. We concentrate on this season with McLaren as one team."
Having seen other teams running, how much potential do you think the power unit has compared to rivals?
"Our target is very clear, not only for us but also all the other power unit manufacturers like Renault and Ferrari are targeting Mercedes. Of course we have the same thing, we are targeting Mercedes. Maybe in 2015 every team - including us as McLaren-Honda - will enjoy very good competition during the season."
Is it realistic to think Honda can challenge Mercedes in the first year or do you need more experience?
"The other teams have a lot of experience during 2014 so maybe that's a little handicap that we have to catch up. But we are ready to catch up in equal conditions during the season."
Have you been able to plan development through the season?
"I don't know how many tokens we have! It depends on the other teams. Someone might say they have spent everything so we have no tokens. It depends on the other teams.
"We have planned development not depending on tokens. We have a plan to improve every day, day-by-day, week-by-week."
So extra tokens will be a bonus on top?
"Yes, and what parts we should change will depend on our competitiveness."
What's the strongest part of the Honda power unit?
"Everything! We have a good relationship with the way we work with McLaren. It's a very tiny layout which was very difficult but we achieved it. That's one very good area of competitiveness we have."
And what do you want to improve?
"It's not mature right now. We have to put in the effort in less than three weeks so we have to catch up in terms of maturity for the actual race."
Is Melbourne too soon to think about fighting at 100%?
"Everyone thinks about getting to the goal of 100% every day but every day something happens! We've been very busy in Barcelona."
When do you think you'll be ready to exploit 100% of the power unit's potential?
"It's a very difficult question because race-by-race we will be setting a target of 100% and trying to step up each time without using tokens. So things like data settings improving step-by-step will mean a very different setting for each race. So we're always targeting 100%, but 100% at one race is quite different to 100% at another."
Are you confident that this engine can win races this year?
"I hope so!"