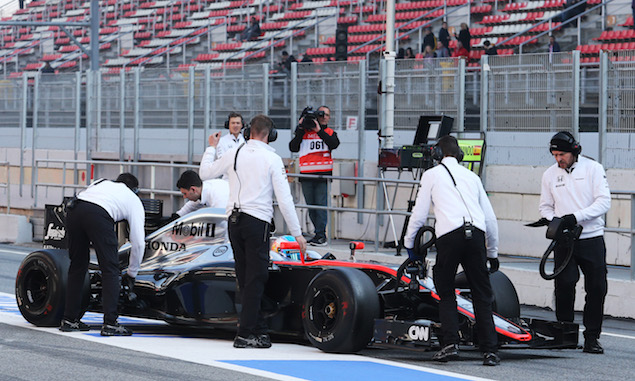 Eric Boullier says McLaren-Honda is 50% behind on its testing plans so far after half of the pre-season test days.
McLaren was hit by reliability issues in Jerez and completed just 79 laps throughout the four days of the first test. While the second test started with more problems - Jenson Button completing 21 laps on the opening day - Friday saw more encouraging running for the car with Fernando Alonso at the wheel. However, Boullier admits the time lost up to this point has left McLaren only half way through the schedule it had planned.
"I can tell you that in our plan for testing maybe we've missed 50% [up until] today, but it's logical because we didn't do enough laps," Boullier said. "In terms of development globally I have no idea.
"We did maybe 50% of the laps we were expecting to do so in terms of plan we are 50% behind."
And Boullier admits the team might not be able to work through the full checklist it has for the MP4-30 before the end of the final test.
"To be honest I'm not sure, if we had only 12 days to get ready and we missed half of the 12 days we will not be ready 100%. You tend to overcheck if you have time because there is always reliability coming from somewhere; not only the engine part but also the car. I'm not sure we will have time to check all the boxes but we will try to do our best."
However, Boullier was upbeat about the progress made on Friday as Alonso completed 59 laps.
"It's good to finally get some laps and finally get the programme running … we're actually doing more things than we expected today so let's say catching up on the programme. Today ran relatively smoothly."
Full times and the second day as it happened
Click here for the gallery from day two of the second test
Keep up to date with all the F1 news via Facebook and Twitter