Vasseur's steady climb toward F1
Vasseur is a relative newcomer to Formula 1, having only stepped into the Grand Prix paddock in 2016 when he took over as team principal at Renault. But by then he was by no means a stranger to motorsport in junior championships, having already played a major role in finding and developing some of the sport's future greatest talents, skills that would carry him far - all the way to one of the top jobs in F1.
Born in Draveil, Île-de-France, France in 1968, Vasseur went to French aeronautical engineering school ESTACA and graduated in 1996, at which point he founded his first professional racing team ASM. With Renault partnership, the team claimed the French Formula 3 championship with David Saelens in 1998. Vasseur certainly hadn't wasted any time hitting the ground running and he was clearly born to the role: "I don't know how to do much other than car racing. I'm not sure I could open a restaurant, for example!"
Vasseur and ASM then turned their attention to the Formula 3 Euroseries championship, and in 2004 claimed their first title with Jamie Green. They picked up a second title in 2005 with a young driver by the name of Lewis Hamilton, and the following year they completed a hat-trick of titles with Paul di Resta at the wheel. A fourth consecutive championship followed in 2007 with Romain Grosjean. Not bad as driver line-ups go. "I have always chosen the fastest drivers to the detriment of financial considerations," he acknowledged. "Success called for success. The best drivers wanted to come, the manufacturers wanted to join us."
In parallel to this, Vasseur co-founded the ART Grand Prix team with Nicholas Todt (son of former Ferrari team principal and FIA president Jean Todt) in order to start competing in in the new GP2 Series, which was being positioned as a potential gateway to Formula 1 for both drivers and teams. In the first season in 2005, one of his pair of drivers was Nico Rosberg who clinched the inaugural championship. The following year Vasseur gave Hamilton his next step up the ladder and the Briton didn't disappoint, handing ART its second triumph in both driver and team championships.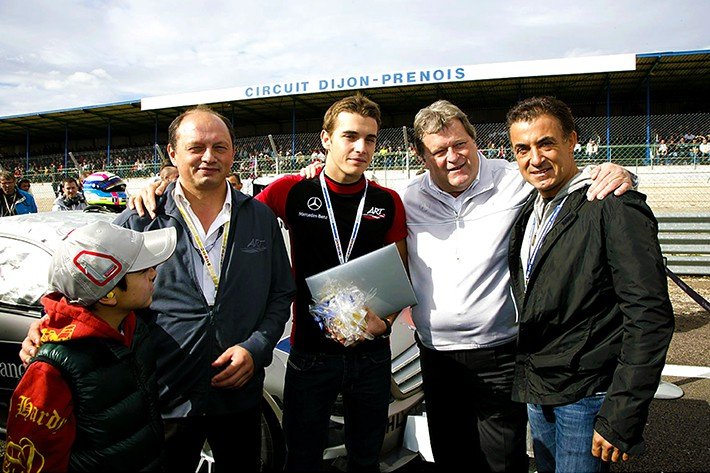 Lucas di Grassi was denied the title in 2007 and ART was finally knocked off the top spot in the team standings, but they were back to winning ways in 2009 with Nico Hulkenberg. However, despite a wealth of driver talent that included Jules Bianchi, after that there would be just one more team title in 2015 with Stoffel Vandoorne hoisting the driver's trophy.
Vasseur had brokered a deal for ART to run under the iconic Lotus brand in 2011 and 2012, and by now he was looking to spread his wings. His latest venture Spark Racing Technology won the contract to construct 40 chassis for the inaugural Formula E season in 2013, and in 2016 he finally reached the F1 summit when he was appointed team principal at Renault.