Red Bull Racing spreads its wings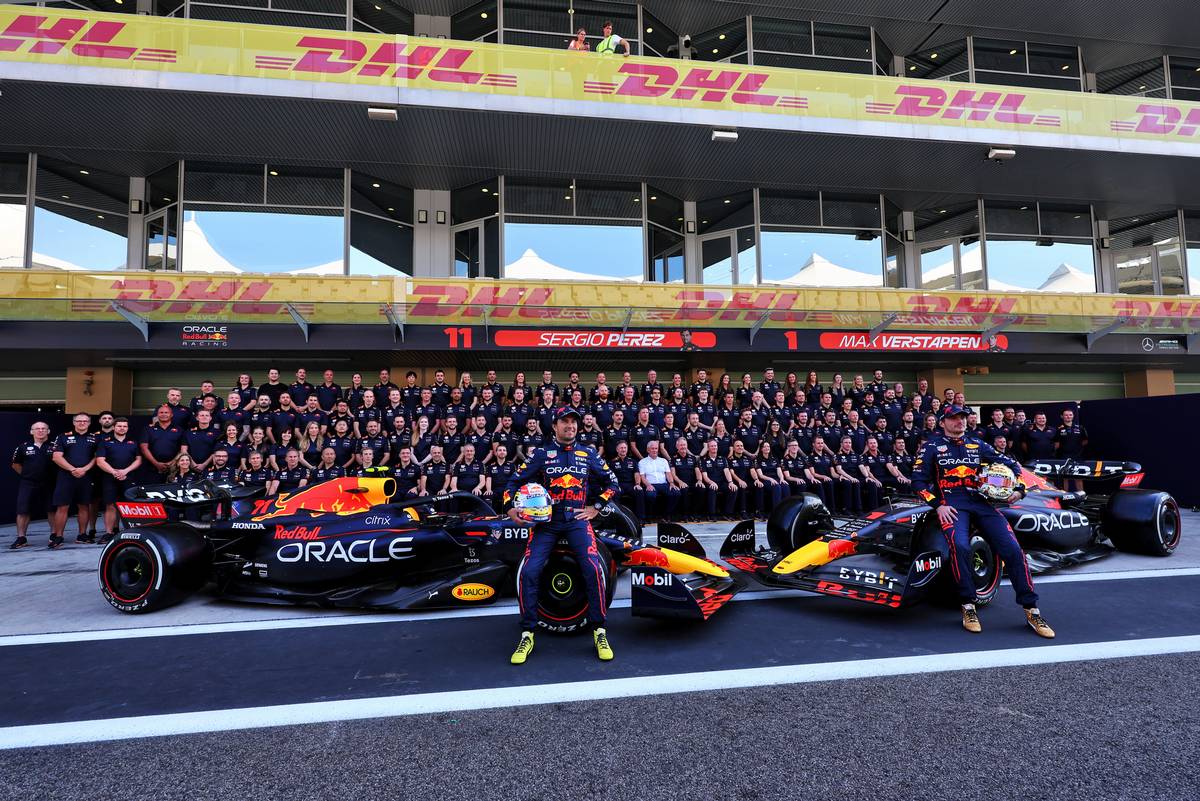 The team picture
Constructors standing: P1, 759 points
If this really were a proper end-of-year school report card, then Red Bull would just have 'A+' across the board in all subjects - except for 'economics', at least when it came to keeping within last year's budget cap. It didn't look like such perfection was going to be the case after the first three races of the season, when fuel system issues forced Max Verstappen to retire from potentially race-winning positions in Bahrain and Australia, handing rivals Ferrari a big early advantage.
But Red Bull never succumbed to panic. After all, the fact was that before their reliability hiccups they had been on course to take big points in both races, and had successfully picked up a win in the intervening race in Saudi Arabia. Once they solved the early glitches there was every chance that Red Bull would be able to storm back to the front and win race after race after race.
And that's exactly what happened. While Ferrari somewhat fell apart and Mercedes barely got going, Red Bull was flying. A record number of race wins for Verstappen together with two more for Sergio Perez ensured that the team title was clinched in the United States with three races to go. They had made it look easy; now the trick will be to not allow this success to go to their heads.
The driver line-up
Max Verstappen: P1, 454 points
Sergio Perez: P3, 305 points
It was Max Verstappen's show in 2022, and he dominates no matter which way you cut and slice the statistics. He beat Sergio Perez 18 times in qualifying (or at least, in terms of starting grid positions) compared to four for the Mexican, with seven of them on pole while Perez managed only one such success in Saudi Arabia.
It was almost as one-sided in race trim, with Verstappen finishing ahead of Perez in 17 races to four. 15 of those being outright race victories - an all-time F1 record number for a driver in a single season. But Perez had his moments too and certainly didn't disgrace himself, with two wins in Monaco and Singapore among his 11 podium appearances (with Verstappen finishing in the top three in a total of 17 occasions.)
After those early glitches, both drivers had good reliability - Verstappen failed to finish just twice all year, while Perez had three DNFs. But cracks did start to emerge in the dream team toward the end of the season, with Verstappen seemingly holding a grudge against Perez held over from Monaco, meaning that he was unwilling to lend a hand toward his team mate's battle to take the runners-up spot in the drivers championship from Charles Leclerc. It was the one piece of grit in the otherwise perfect oyster of Red Bull's season.
How 2023 is looking for Red Bull
Last year's report card forecast suggested that Red Bull 'may actually have their nose in front to claim the constructors crown for the first time since 2013', and we were right. But our smugness is tempered somewhat by the fact that literally no one saw their actual level of dominance coming. Now the question is whether they can maintain that stunning level of success into 2023 as well.
The odds are very much on their side. Both Ferrari and Mercedes have got their own problems to sort out to put them into contention next season, while it's almost all peace and harmony at Red Bull with consistency very much the name of the game. There's not even a significant overhaul of rules and regulations to accommodate.
However the hefty fine and reduction in aerodynamic testing time for exceeding the 2021 budget cap are not to be dismissed. And there could be changes in the wake of the passing of team founder and co-owner Dietrich Mateschitz who did so much to ensure that Christian Horner and Adrian Newey always had exactly what they needed to ensure success. Red Bull need to make best use of their current superiority in F1, because it might not last as long as everyone assumes.
Keep up to date with all the F1 news via Facebook and Twitter