A strong start turned sour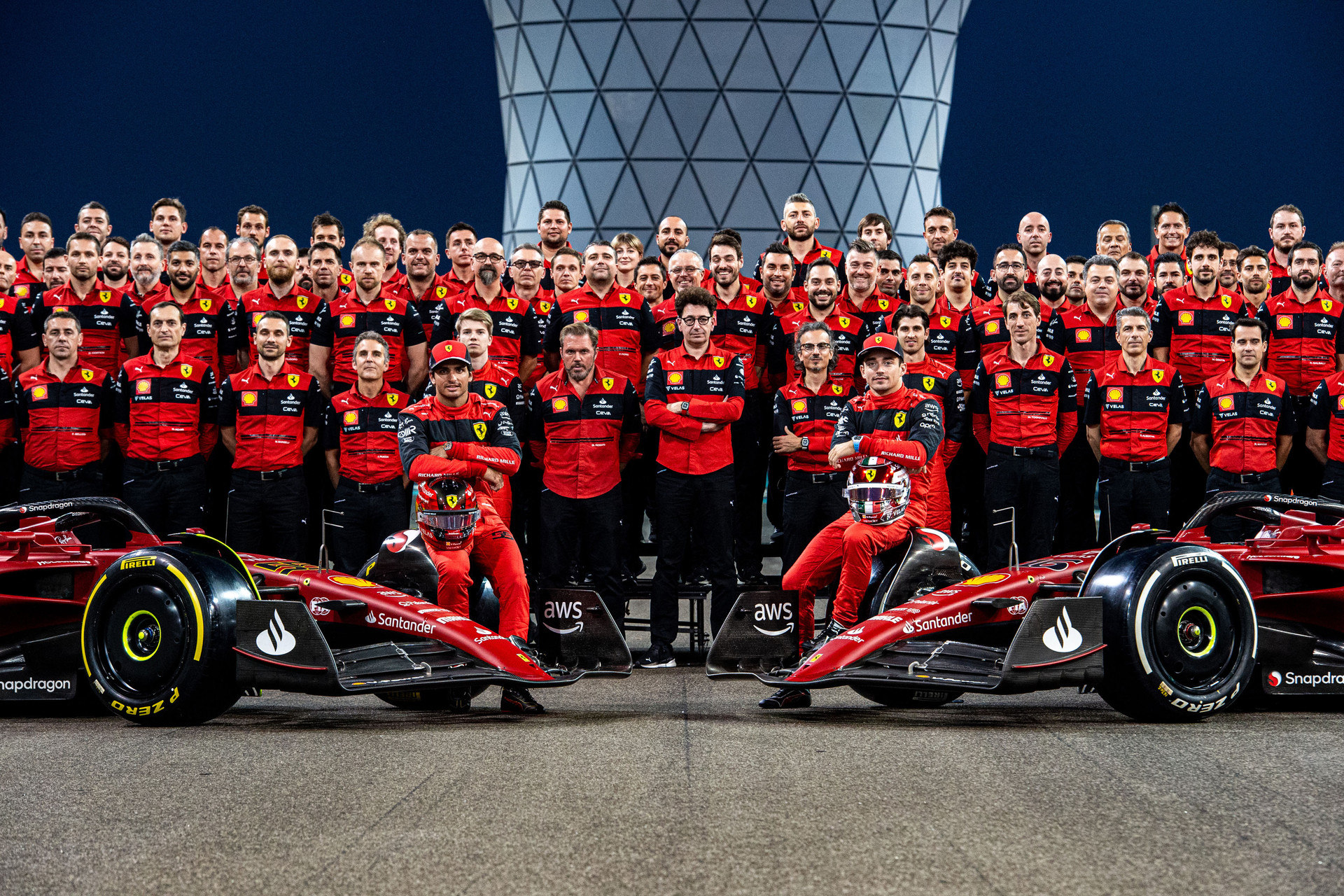 The team picture
Constructors standing: P2, 554 points
It's not so very long ago that Ferrari suffered a truly dire season, in which they finished in fifth place in the team standings in 2020. That was after being forced to make off-season changes to their controversial power unit by the FIA. Since then, team principal Mattia Binotto has been taking careful, methodical steps to put them back on top. He was clear from the start that 2022 was an intermediate step with the aim being to see the team consistently back in contention for race wins.
And that's exactly what Ferrari managed this season. Unfortunately it all started a bit too well, with Charles Leclerc taking victory in two of the first three races over Red Bull's Max Verstappen, pulling out such a big lead in the points that many felt the title was all but decided in Ferrari's favour by the time F1 rolled into Imola. Unfortunately after that, Verstappen proved unbeatable while Ferrari were too often busy shooting themselves in the foot with all manner of mistakes at every level.
Binotto stuck to his 'no blame' policy, but those early victories had already raised expectations unreasonably high. Finishing the season with P2 in both the drivers and constructors championship was no longer enough for the powers-that-be. No matter how unfair it was on Binotto who had delivered exactly what he had said he would at this point in their recovery programme, he departed at the end of the season.
The driver line-up
Charles Leclerc: P2, 308 points
Carlos Sainz: P5, 246 points
Charles Leclerc has been Ferrari's blue-eyed boy ever since he stepped up to the senior squad from Alfa Romeo in 2019. But a funny thing happened last year, when new recruit Carlos Sainz - who had been widely expected to be a stop-gap solution while Ferrari Driver Academy graduate Mick Schumacher served his apprenticeship at Haas - ended up ahead of the Monegasque in the final drivers standings.
This year has seen Leclerc back on top, with Sainz struggling to get to grips with the F1-75 over the first half of the season. Leclerc beat Sainz in 15 qualifying sessions to Sainz' seven with nine of them putting him on pole, compared to three for Sainz beginning with his maiden F1 pole at Silverstone. Despite this advantage, Leclerc went on to actually win just three races, Austria being the only one after Bahrain and Australia at the start of the year. In terms of overall podiums, Leclerc beat Sainz by 11 to nine, while Sainz had more DNFs (six) than Leclerc (three).
Sainz will certainly not be happy to be bumped out of the top four in the final standings by Mercedes' George Russell. While it's by no means time for the Spaniard to panic quite yet, he needs to be much more equal with Leclerc in 2023 to avoid being seen as the perennial number two driver at Maranello in future.
How 2023 is looking for Ferrari
The question haunting Ferrari is whether their string of mistakes and strategic miscues cost them a genuine shot at the championship this season. While it certainly didn't help, our view is that Red Bull were simply too hot to handle this year even if everything had gone flawlessly for the Scuderia, although it would certainly have been a closer battle than it proved.
Making sure that Ferrari cuts down on mistakes during the race weekend will without doubt be the first order of business for new team principal Frédéric Vasseur. But will that be enough in itself to put the team on an equal footing with Red Bull? We think they need to make significant performance improvements on the Ferrari power unit, as well as their efforts to ensure reliability across the board.
That's a big task for the new boss, who will have his hands full settling into the high intensity hierarchy of the team. And if he decides to go his own way rather than follow the path Binotto had mapped out, it could mean Ferrari's chances of title glory have just been punted a year or more further down the road. The Tifosi won't like that.
Keep up to date with all the F1 news via Facebook and Twitter