Gene Haas talks exclusively to F1i following a remarkable sixth place on debut courtesy of Romain Grosjean in the Australian Grand Prix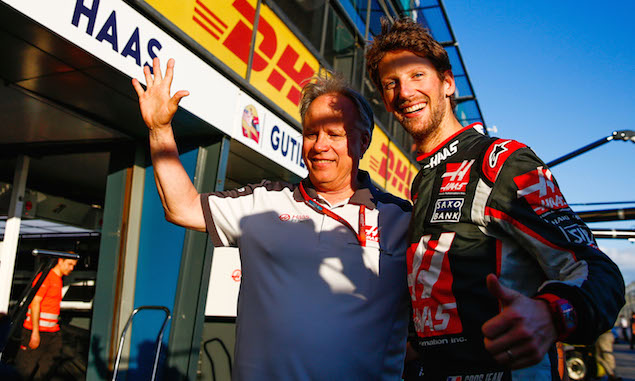 How are the emotions after that?
"I've got to tell you, in the last 30 laps I was going 'Oh man, this is just not going to stay this way'. I saw some of the other guys pit and take on the soft tyres again and that was a really great strategy to take on a medium set of tyres and get 39 laps out of it. So the fact that we started the race, we stopped the race, we were able to put on a set of medium tyres and I guess in retrospect that was a brilliant strategy. Romain not to burn up his tyres and get 39 laps out of them was pretty phenomenal."
How proud are you to see the team click first time out?
"It's a great morale booster. When you put these teams together most people are used to disappointment, very hard to score points. You are running against some of the best teams, obviously Formula One teams are the best teams in the world at what they do and to be able to put together a package that actually gives us the ability to compete with them is a very, very good feeling and I'm sure that a lot of the teams in this paddock will probably say 'hey, there's a new team'."
Must have been through a lot of emotions, especially with Gutierrez's crash. That's some introduction to F1…
"Yeah, I think that was the low spot. We only have two cars and to see Esteban taken out, then you always worry about 'is the engine going to have a problem? Are you going to have a bad pit stop?' Fortunately none of those things occurred this time and we were able to keep our position and Romain is very, very good at saving his tyres. It's something you don't learn easily, it takes discipline to get out there and make sure you don't chew your tyres up."
What have you learned? You said you were nervous ahead of this weekend...
"Yeah there was a lot of nervous energy. Especially when the race started you feel like you've got pins all over your skin because it's like 'Oh my God', there's so many things you know can go wrong here. The cars are incredibly complicated, there's a million reasons why you're going to have a problem and if you miss any one of them it will stop your day, it just ruins it.
"As you can see with Esteban we obviously had a bad shunt there. Grosjean had a bad shunt the day before. So these are problems that we came up against, we rebounded from them and we were still able to at least get the job done. I feel good that we can run with the big boys and our car was good, it's competitive, it's fast, it's a good car."
Does it change your expectations for the year or does it take the pressure off that you've got that result in early?
"Well, I think it validates the car. You have to give credit to Ferrari - obviously a lot of the components are built by Ferrari. Dallara built a hell of a chassis, Ben worked on the aero, he got that right. All these little things make it work and then we put together a good team, a good strategy. So I think you put all that together and it worked. Guenther did a great job of finding these people too. He put all the deals together with Ferrari and Dallara. We've been working on this for a long time and all the pieces of the puzzle came together and we had a great day."
And how does it leave you feeling for the rest of the season then? You must be excited to get to the next race…
"We had a good day, unfortunately they don't always repeat themselves. But I think the car's good. I think we've got a good, stable chassis. The aero program is there, the engine's got power - I know Ferrari's put a lot of effort in to re-engineering their engine package - I think we have a good car to race for the rest of the year."
Australian Grand Prix - Driver ratings
REPORT: Rosberg beats Hamilton after huge Alonso crash
AS IT HAPPENED: 2016 Australian Grand Prix 
Keep up to date with all the F1 news via Facebook and Twitter