F1i looks back at some of the best quotes from the Australian Grand Prix weekend, including Mark Webber and Sebastian Vettel on the podium...
"I didn't want to go onto the grass but I did the lawn mower! So I don't have to do it next week when I go home."
Sebastian Vettel's love of all things English clearly extends to the British tradition of tending one's lawn, even in the middle of a Grand Prix.
---
"This is a win for everyone, unbelievable"
Romain Grosjean thanks the Haas team over the radio on his slowing-down lap after a truly inspirational performance by the rookie squad.
---
"First, I really have to… I'm not going to take my hat off, but really take my hat off to this team. There were some sexy laps."
In the post qualifying press conference, is Lewis Hamilton suggesting he likes to keep his hat on in bed too?
---
Vettel to Webber on the podium after pouring champagne on the Aussie's head: "Would you like some more?"
MW: "No, no no, I get drunk very fast these days!"
SV: "And then you start singing 'The summer of 69'"
It seems Sebastian Vettel and Mark Webber get on a little better these days…
---
"There's a new F1 team on the block and it's an American F1 team, so we're real proud of that. But these other teams are pretty dang good at what they do."
Not only does Haas become the first team to score points on its maiden F1 appearance since Toyota, but Gene Haas must surely be the first F1 team principal to use the word "dang" in a press statement. Cue banjo music…
---
"Send me your cup size and I'll see what I can do."
Adrian Newey tries his hand at risqué humour when a woman presenter at the Red Bull – Aston Martin tie-up presentation asks if the new hypercar he is designing will have somewhere for her to put her coffee.
---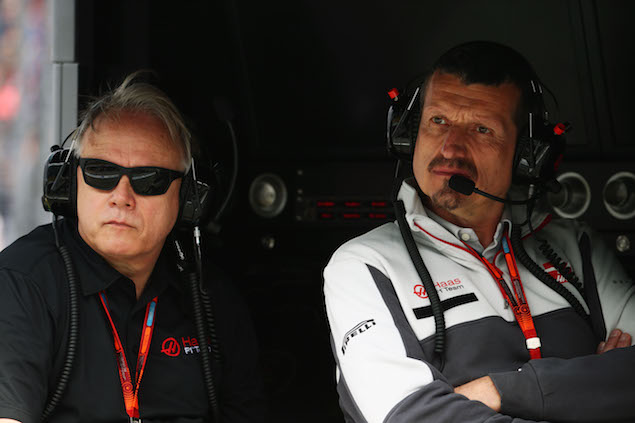 "Really unhappy! He was crying, he was destroyed!"
Guenther Steiner replying to a question of how team owner Gene Haas had reacted to the team's sixth place 
---
"We didn't do a pit stop, maybe that was lucky!"
And Steiner was clearly not confident in Haas' pit stop ability ahead of the Australian GP
---
"Get a good lawyer!"
Christian Horner when asked if he had any words of advice for Gene Haas as a new team owner.
---
Journalist: "Why and when did you decide to name your car after a pizza?"
Vettel: "It's not named after a pizza. It's a name, first of all. So, I think…"
Ricciardo: "What's it called?"
SV: "Margherita."
DR: "It's a cocktail!"
SV: "I think if you look it up, the first thing that comes is that it's a name, not a pizza."
Journalist: "Why Margherita then?"
DR: "Because it's a pizza!"
SV: "No, because it's a drink! No, various reasons. We like the name. Every year we give the car a name. Last year Eva, this year Margherita. We're happy with that."
If you think the FIA press conferences are serious affairs think again…
Australian Grand Prix - Driver ratings
Exclusive Q&A with Gene Haas after the Australian Grand Prix
REPORT: Rosberg beats Hamilton after huge Alonso crash
Keep up to date with all the F1 news via Facebook and Twitter