In his latest F1i column, Romain Grosjean reveals his ability to predict his latest race result and discusses Mercedes collisions...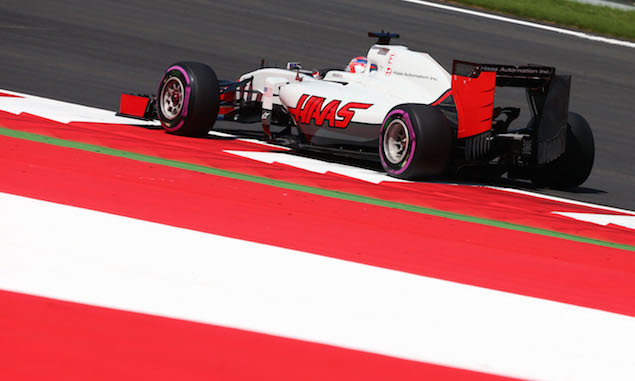 After a few races where we came close to scoring, it was great to finally get back up there in the points at the Austrian Grand Prix on Sunday. It's never easy, but ultimately very rewarding when it happens, and a great boost for the team heading into one of our 'home' races in Britain.
Following qualifying in Austria, I wasn't happy with where we ended up. I had the feeling we had more in our pocket. After the damage on the car on the run in Q2, and the weather conditions, I knew the race pace would be much better.
On Sunday morning, I told some of my guys on the team that my finishing prediction was P7.
From my side, I definitely had the feeling the race would go well. The strategy worked, we managed to get the best from the tyres, and the safety car came at a good time as well. At the end, we got back into the points and everything worked pretty much as we expected it to, which was great.
Towards the end of the race I was behind Jenson [Button], but I knew I wasn't quick enough to overtake him. I was aware of the pack behind, but I didn't think there was anyone running on soft tyres closing in from there.
So with that in mind, I was concentrating on just driving the car and not making any mistakes. I was staying close to Button in front, in case anything happened to him, so I could take advantage of it.
When I then learned I had the five second penalty, and we needed to open up a gap, my whole mindset had to change. I basically had to start producing qualifying laps and push really hard to close in on Jenson, but at the same time not be too close and be effected by the aero lost following another car.
Every lap then, I was pulling out the gap to Sergio Perez behind, it was one tenth, then two tenths and so on. I was really pushing the car to the limit. I was on a long stint on the tyres, they were starting to get worn, as was the brake pedal a bit.
I really had to stay on it, like qualifying, but it was actually good fun. I was enjoying driving the car right at the limit for those last ten laps.
Obviously there was a lot of talk at the end of the Austrian Grand Prix regarding the clash between Nico Rosberg and Lewis Hamilton. From my side, if they'd both gone out at that stage, we'd have been two places higher and back in the top five! With that in mind then, I'm not too bothered if they want to hit each other.
Joking aside, it's a definitely a tricky situation for Mercedes. They have the best car, a pair of great drivers and they're fighting for the world championship. The situation wasn't too bad over the last few seasons but maybe now it's going a bit too far. But again, selfishly, when they do go out, it's positions gained for us.
I'm looking forward to going to Silverstone, it's a circuit I love. It's a great Grand Prix with a brilliant atmosphere. The crowd that's there is passionate about racing, and that makes a difference in comparison to some events we go to.
It's close to the home of many Formula One outfits, Haas F1 Team included. I spent Wednesday at the team's base in Banbury, it was actually my first visit to the UK-side of the team. It was another busy visit with media work and some promotional items to take care on behalf of Haas Automation.
Silverstone, by its nature, is a fast, flowing circuit with the famous turns at Maggotts, Becketts and Chapel. The first time I drove through there in a Formula One car, it was pretty special.
Without stating the obvious, it's really high speed so it happens very fast. The sensation there is always amazing. It's critical to have the confidence in your car to be able to get the most of it through that section.
When you get it all hooked up perfectly, it reminds you just why you love driving a Formula One car, and it's a feeling unlike anything else.
Naturally we have to see what the English summer presents us with weather-wise over the course of the weekend. That can always make a difference to what happens on track.
Regardless, I'll be doing all I can to see if we can score back-to-back points for the first time since Australia and Bahrain.
Chris Medland's 2016 British Grand Prix preview
From the cockpit: Felipe Nasr on back-to-back races
Scene at the Austrian Grand Prix
Keep up to date with all the F1 news via Facebook and Twitter