Eric Silbermann appears to be flogging a dead horse this weekend and musing about curtains on aircraft toilets. Surely time for the summer break.
I was looking forward to the German Grand Prix. What? Why are you all laughing? No, I really was, because in a genuine case of absence making the heart grow fonder, I seemed to have good memories of Hockenheim 2014.
These I realised related mainly to temporary pleasures linked to eating fillet of horse, drinking beer and cycling my folding bicycle across a motorway bridge over the River Rhine, which frankly made Steve McQueen's motorcycle jump in "The Great Escape" look like only the second most dangerous thing the allies ever did in Germany. I've left my Brompton bike at home this year but Wednesday night's fillet of filly was as good as I remembered it and the beer was preceded by a gin and tonic and followed by an Argentine Malbec, so no complaints there.
On Monday I'll fly home from Hockenheim and there's the wonderful prospect of not visiting an airport until I fly to the Singapore Grand Prix, as I'm road-tripping to Spa and Monza. In fact, the absolute best thing about this mandatory summer holiday is not having to suffer the indignities of modern air travel and even worse, modern air travel at the height of the school summer holidays, stag/hen season. What I find hardest to deal with is the sheer idiocy of the majority of passengers and the most surprising thing about them is that somehow they've managed to find their way to the airport and that they are in possession of a ticket and a passport.
My flight from Heathrow to Frankfurt was packed with about a hundred 12 to 14 year old Chinese kids: it's obvious really that the country that makes everything in the whole world will naturally also make lots of children. They were chattering away like hopped up chipmunks on a Speed and Benzedrine cocktail. The two kids sitting next to me were pleasant enough and at least they only ordered water to drink. The trolley dolly had stalled in the row in front when four of the six passengers ordered tomato juice with salt, pepper etc etc. What is it with flights and tomato juice? Have you ever been in a bar and heard someone ask for a tomato juice? No. Even a Bloody Mary is a rare shout, but get on something with wings and a hostess trolley and suddenly the whole world wants a thick sticky drink made out of a salad ingredient.
While the Chinese kids were all dressed in matching orange and white Bri-Nylon track suits, the adults with them were designer-labelled up to their sunglasses, having clearly emptied every outlet mall in the UK. The irony of their massive spend on European brands is that even here, the majority of clothes are produced in their homeland, so they are effectively filling up the plane with a whole load of "Made in China" garments and trinkets for which they've paid through the nose.
Mind you it's not just the great unwashed on cheap airlines who act strangely or make stupid comments. Years ago, on an upgraded-to-First flight to Melbourne, I heard a fellow passenger complain about the lack of curtains on the toilet window. "What if some man was to look in while I'm in there." The steward had to point out the unlikely chance of that happening at 39,000 feet.
Also flying to Frankfurt was Ross Brawn, which immediately set tongues wagging with rumours of his replacing Maurizio Arrivabene at Ferrari. Firstly, the Englishman was on his way to a charity event, although you might say putting Ferrari out of its misery would be a charitable act and secondly why on earth would a millionaire angler in his sixties want to go through all the hassle? Imagine the scenario if you will: Ferrari boss Sergio Marchionne calls Brawn and says, "we are looking for a very intelligent, highly respected and experienced man to head up the Scuderia." You can see what's coming can't you. The moment Ross says yes he's effectively disbarred himself from the job because by saying yes to Ferrari, he has proved that he is the complete opposite of a very intelligent man: a true Catch 22 scenario.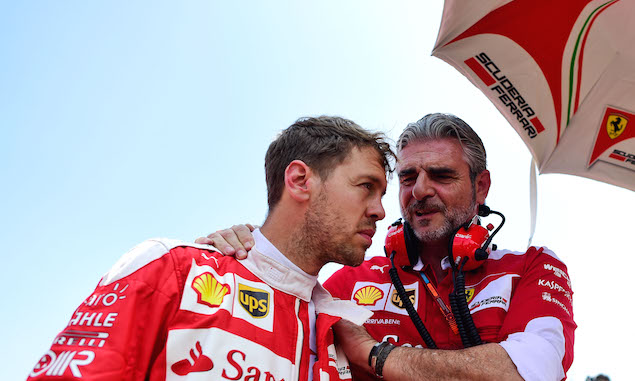 I seem to have filled this column with tales of stupidity, so it would be impolite to leave out the FIA, the sport's Frankly Inadequate Authority, who excelled itself yesterday with its volte face over pit-to-car radio messages. It's stated reason for reversing their own rule is that: "This approach is aimed at providing improved content for fans and spectators…" but if you recall, the reason given for banning messages in the first place was that apparently fans wanted to know the drivers were piloting their cars in a more heroic and unaided fashion without making it sound as though the engineers drive the cars from the pit wall.
LIVE: German Grand Prix weekend
Exclusive Alex Wurz Q&A: GPDA chairman "surprised" by Halo delay
Chris Medland's 2016 German Grand Prix preview
FEATURE: Halo: splitting opinion in F1
Keep up to date with all the F1 news via Facebook and Twitter