What time does the German Grand Prix start? What channel is the German Grand Prix on? The answers to all of that and more in F1i's race preview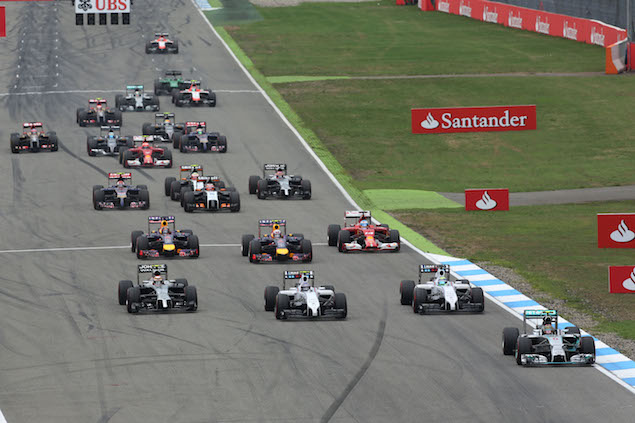 The final race ahead of Formula One's mid-season break is upon us, and a return to Hockenheim awaits before the chance to catch your breath. The sixth race in eight weeks sees F1 race in Germany for the first time since 2014 after the race dropped off the calendar last year. Such a hectic schedule this season has delivered plenty of action, controversy and changes in momentum, and that's just at Mercedes. Lewis Hamilton took the championship lead for the first time this year in Budapest, but only after questioning Nico Rosberg's pole position lap with the FIA. Hockenheim sees that battle continue, while Ferrari will also look to fight back against the Red Bull threat in what will be Sebastian Vettel's first home race driving for the Scuderia.
FORM GUIDE
Mercedes finally enjoyed a clean weekend in Budapest to secure its third one-two of the season, with Hamilton unlucky to miss out on pole position but making amends in the race. Red Bull was a threat during qualifying but eventually Ferrari looked quicker over a race distance, even if Daniel Ricciardo and Max Verstappen kept Vettel and Kimi Raikkonen respectively at bay. Red Bull expects Hockenheim to be less favourable to its car, with more overtaking opportunities also pointing to a better circuit for Ferrari. Williams will also hope to find some of its 2014 form which saw Valtteri Bottas hold off Hamilton for second place here, with Force India having shown it is quick everywhere in recent races.
2014 RESULT
Pole position: Nico Rosberg (Mercedes), 1:16.540
Top three: Nico Rosberg (Mercedes), Valtteri Bottas (Williams), Lewis Hamilton (Mercedes)
Fastest lap: Lewis Hamilton (Mercedes), 1:19.908
SESSION TIMES (All times local)
FP1: 10:00 - 11:30
FP2: 14:00 - 15:30
FP3: 11:00 - 12:00
Qualifying: 14:00 - 15:00
Race: 1400
TYRE CHOICES
WEATHER FORECAST
Rain continues to follow Formula One around, but this weekend the weather should have less of an impact on the competitive sessions. Friday carries the biggest threat of rain, with afternoon showers forecast which could hit FP2. That throws up the prospect of teams racing without much long run data from Friday practice. However, there is only a 20% chance of wet weather on Saturday and Sunday, with both days expected to be warm and relatively dry.
UK TELEVISION TIMINGS (All times UK)
Sky Sports F1 - Live coverage
FP1 - 0845
FP2 - 1245
FP3 - 0945
Qualifying - 1200
Race - 1130
Channel 4 - Highlights
Qualifying - 1745
Race - 1800
PODIUM PREDICTION
1st - Nico Rosberg
2nd - Sebastian Vettel
3rd - Kimi Raikkonen
2014 BEST SHOT
FEATURE: Halo: Splitting opinion in F1
Scene at the 2016 Hungarian Grand Prix
Hungarian Grand Prix - Quotes of the week
Keep up to date with all the F1 news via Facebook and Twitter