Carlos Sainz talks exclusively to F1i's Chris Medland about an unusual first half of the season at Toro Rosso and why he needs to change his mindset to get a Red Bull seat
"The question is regarding Max…"
Carlos Sainz faced a lot of questions when Max Verstappen was promoted to Red Bull ahead of the Spanish Grand Prix, with the Spaniard arriving at his home race having seemingly been overlooked for the seat being vacated by Daniil Kvyat. Nearly three months on, Sainz sat down with F1i and explained why he doesn't see it that way.
"I think I showed it didn't hurt me much," Sainz says. "When I was in the press and everyone was asking me 'Oh, but this is a big setback for you because you didn't get the drive', I said - and I was being fully honest - 'No, for me it was never in paper or in my contract to go up to Red Bull'.
"No-one told me if I don't go up to Red Bull after the fourth race of 2016 then it would be a really bad situation for me. No-one told me this and Helmut [Marko] kept it very clear to me also, and I showed it perfectly with results on track that I was totally right when I told you guys it was not a bad thing for me."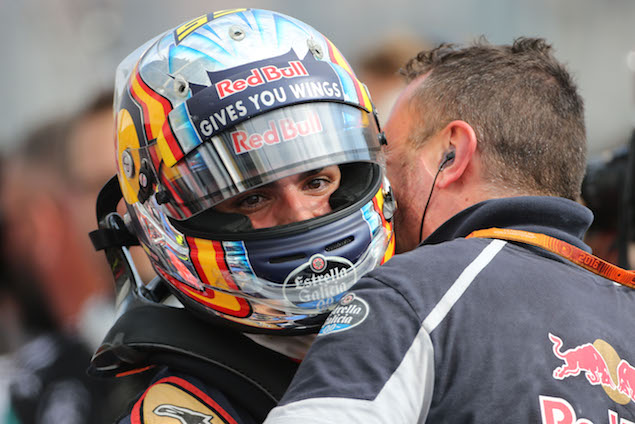 Sainz has had a new lease of life since the driver swap, with his run of bad luck coming to an end and mistakes being ironed out. Perhaps it is after pressure was taken off him, but he sees very little to be disappointed with from this year so far.
"I think I can be very pleased with this first half of the season. To do more than we actually have done would have been very difficult. I think the first four races were quite unfortunate for us. We had the car to score a lot of points but we didn't capitalise on it because it was almost like we had this black cat following us from 2015.
"From Barcelona this black cat went away and suddenly the results started to come together. We lost a podium in Monaco which was a big frustration but apart from that we've scored points in every race I've finished since then except for Baku. So I think we can be very pleased and I think we've done a big step forward, and me personally also.
"The start of the season was very tough for me because I knew I had the pace, I knew I was super-quick, I knew I had the race pace but there were very small things happening, very small situations that were not allowing me to show my true potential. Finally in Barcelona this went away and a lot less things started happening to me and I could show everyone what I'm capable of. What's happened in the last seven or eight races looks like I'm a completely different driver when I'm not. I'm exactly the same guy as the first four races."
And Sainz insists his upturn in form is not driven by a desire to prove Red Bull wrong for fast-tracking Verstappen through the system.
"No I don't think it's my motivation. My main motivation has to be within the Toro Rosso team to extract the maximum potential of the car. Make sure every weekend I am the driver that is extracting the maximum out of the package I have.
"Recently I think that has been the case and that is why I am so happy but my intention is never to prove to Red Bull: 'You got it wrong with Max, it's me coming'. My intention is to be able one day whenever they have a chance again of promoting someone to make sure it's me. That is my main target at the moment.
"People tend to compare always me with Max and I honestly don't car about what he does or what is happening with him at Red Bull or what he was doing in Toro Rosso. I perfectly knew about my performance, I perfectly knew about my capability and I always said it was a matter of time until I could show it. Finally now I have been able to show it and many people have changed their opinion about me. As I said it was just a matter of time and finally it is happening now."
Despite his self-confidence and positive outlook to his situation, Sainz admits there is a very clear downside to Verstappen being promoted alongside Daniel Ricciardo.
"The only frustration I can have at the moment is that even if I perform well I know there is not many space for me at a top team, like at Red Bull. That is the only thing that maybe is frustrating from that contract. For the rest, for me to get another year with Toro Rosso I think is a good situation, not a bad situation at all.
"Hopefully together with this team we can surprise many people next year and we can be that fourth or fifth team that we have been trying to be these last couple of years but for various issues we haven't been. But I am confident that with better links with Red Bull, a good power unit and the car that James Key normally produces we can be there next year. It's not a top team yet but it's a decent situation."
And as a result of the bottleneck in the Red Bull system, the 21-year-old says he will need to play a waiting game if he wants to be rewarded with a drive at the senior team in future.
"I feel ready, whenever this opportunity comes, to grab it. I just need to keep waiting. I've been very patient, throughout this last year with all the troubles that I had I stayed patient and the results came. Now I need to be patient in this other area and hopefully a top drive will come soon and I will be there to get it. Patience is probably the word I need to use more in my head nowadays!"
But patience isn't a great word for a racing driver, is it?
"No! I am not that patient, but hopefully it will work and as long as I'm world champion one day…"
Explaining the F1 summer break
2016 technical review: Sun, sea and tech
Chris Amon: A legend's career in pictures
Keep up to date with all the F1 news via Facebook and Twitter