In his latest column for F1i, Romain Grosjean looks forward to a new team-mate in Kevin Magnussen, and looks back at his pre-race crash in Brazil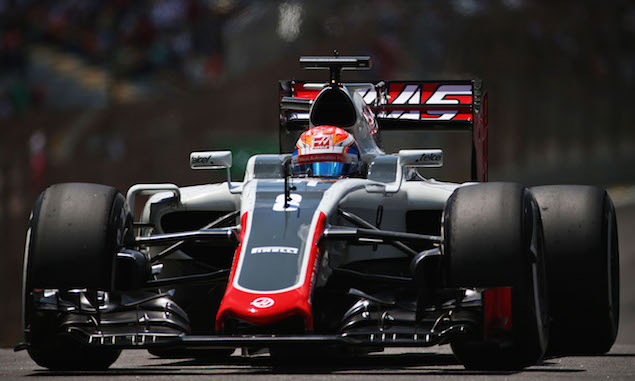 So taking a look back at the Brazilian Grand Prix – it was ultimately a weekend of highs and lows.
Starting with the highs, we started off with a very good Friday. We had no technical issues, we could run the car, learn the car, and ultimately log some decent set-up work ahead of Saturday's sessions.
Conditions were very different on the Saturday, it was a lot cloudier and much cooler. Clearly that helped us to get the tires working much better. It's always been an issue we know we have to focus on.
We haven't always known if we're getting the tires in the window or not, and that was a pure example of the car being 14th and 15th in practice on Friday, to being seventh on the grid on Saturday after qualifying. It was the same car, same track, same people around, with no major issues. We need to understand these things to help us move on to the next level.
Qualifying, as I alluded, went very well to be fair. I had a bit of scary moment in Q1 when on the second set of tires I couldn't improve my time, I had lost a bit of the feeling with the car. We worked on it between Q1 and Q2 and happily in Q2 we improved and made it into Q3.
My Q3 lap was one of the best I've ever driven in the car. That put us P7, our best ever qualifying effort and matching my Japanese Grand Prix grid slot – where I'd qualified P8 then moved up one after penalties had been applied.
It was an amazing qualifying session and an amazing result for all of us. It was incredible to be this close to the end of the season and genuinely qualifying directly behind the top six cars from the year.
It was pretty decent and obviously everything played in our favour from the temperature, the tires, the wind, the sun - it's all correlated and something we have to keep learning from. We need to build up that baseline of data and work on it for next season.
And Sunday? Well, I made a mistake. I was headed to the grid, trying to find out where the grip was on the track. The car felt pretty good, initially it was a bit slippery but it got better. I was going up the hill, aiming to head back into the pits to allow a second reconnaissance lap, and the next thing I knew I was rearwards heading into the barriers.
There could be lots of explanations, tires being cold, pressures being low and so on but the reality is it was my mistake. I felt really bad, honesty, as bad as you can feel. It was one of those races where if the car was good in the wet, we could have scored a great finish with all the problems people had ahead.
I apologised to the team. All the mechanics came to see me and gave me a big hug which was good. Of course I had to call Gene (Haas) to apologise to him as well. He knows racing, he knows these things can happen so he was really good with me. We just wanted to go straight to the next race, put it behind us.
The other notable highlight from Brazil was the team confirming its 2017 driver line-up with Kevin Magnussen joining me next season. It wasn't a surprise to me as we had initially announced back when I joined the team that my deal was a multi-year contract and that was always going to be the plan.
Having Kevin join us I think will be great for the team. He's got a lot of experience from big teams in McLaren, where I don't know what they're like, to Renault, who I obviously know very well as a team from my own time at Enstone.
It'll be interesting to work with him and see what his feedback's like. He proved in 2014 and 2016 he can score points with a difficult car. That's a good achievement and hopefully next year he can push the team, and push me, so we score more points and finish in a better position in the constructors championship.
And finally we head to Abu Dhabi for our final race of the season. It's always a great race to finish the championship with. It's getting cold and rainy in Europe so Abu Dhabi's a welcome excuse for more heat and of course, it's a race that starts in the day and moves into the night.
That alone can make it a tricky place to get your car set-up right. Conditions can be very different between FP1 and FP2, then between FP3 and qualifying. Obviously it gets cooler in the night. It's a challenge, there are a lot of low speed corners and we normally think that's not our particular strength. With that said, Suzuka was very high speed, while Sao Paulo wasn't, but we made it into Q3 at both tracks.
It's a really great place and I always enjoy going to Abu Dhabi. We're going to focus on the continuation of our work from throughout the season, hopefully try a few more things, and all being well we'll end the year with a solid result.
Chris Medland's 2016 Abu Dhabi Grand Prix preview
FEATURE: Hamilton v Rosberg: 2016 F1 drivers' title permutations
TECHNICAL: Under the skin of the McLaren-Honda MP4-31
INTERVIEW: Rob Smedley on Felipe Massa
Keep up to date with all the F1 news via Facebook and Twitter