What time does the Abu Dhabi Grand Prix start? What channel is the Abu Dhabi Grand Prix on? The answers to all of that and more in F1i's race preview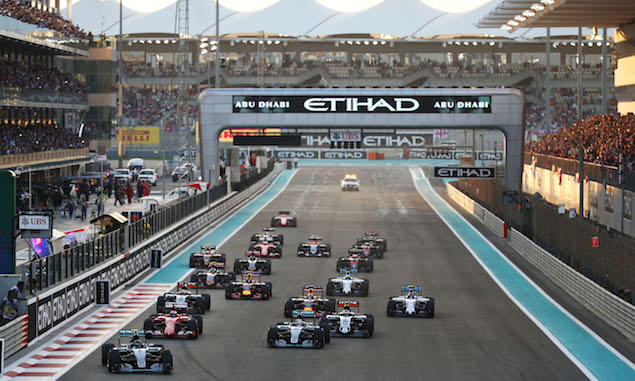 It all comes down to this. The 2016 F1 drivers' championship will be decided in a showdown between Lewis Hamilton and Nico Rosberg at the Abu Dhabi Grand Prix. Rosberg goes into the race as the heavy favourite, with the German becoming champion for the first time if he finishes on the podium. For Hamilton, the triple world champion knows nothing less than third place will do. The roles were reversed at the Yas Marina Circuit two years ago as Hamilton won the title, but as we have seen on many occasions, title deciders can throw up all sorts of drama. Will Rosberg seize the moment or take a cautious approach which could open the door for Hamilton?
On top of the championship decider, Abu Dhabi marks the last race in the F1 careers of Felipe Massa and Jenson Button (though the latter insists it may just be a year off racing for McLaren), and the final grand prix at Force India for Nico Hulkenberg before his move to Renault. There's going to be a few tears one way or another…
FORM GUIDE
Hamilton has been supreme since Rosberg's victory in Suzuka, not putting a wheel wrong as he has won three straight races to take the title down to the final round. Perhaps his best performance was in the wet in Brazil, where he even had the measure of the sensational Max Verstappen. Red Bull continues to pose a threat to Mercedes, but will do well to close the gap further in Abu Dhabi and is likely to be in a tight battle with Ferrari. Force India is likely to have the edge over Williams once again, while Haas should perform well if its form in Bahrain earlier this year is anything to go by.
2015 RESULT
Pole position: Nico Rosberg, (Mercedes), 1:40.237
Top three: Nico Rosberg (Mercedes), Lewis Hamilton (Mercedes), Kimi Raikkonen (Ferrari)
Fastest lap: Lewis Hamilton (Mercedes), 1:44.517
SESSION TIMES (All times local)
FP1: 13:00 - 14:30
FP2: 17:00 - 18:30
FP3: 14:00 - 15:00
Qualifying: 17:00 - 18:00
Race: 17:00
TYRE CHOICES
WEATHER FORECAST
If you're hoping weather could play a part in this weekend's race after the excitement of Brazil, I'm sorry to disappoint. Abu Dhabi remains one of the most predictable races on the calendar in terms of conditions, with a forecast of warm and sunny conditions on all three days, with temperatures in the high 20s. While FP2, qualifying and the race take place at sunset, the stable weather suggests temperature drops will be consistent throughout the weekend.
UK TELEVISION TIMINGS (All times UK)
Sky Sports F1 - Live coverage
FP1 - 0845
FP2 - 1245
FP3 - 0945
Qualifying - 1200
Race - 1130
Channel 4 - Live coverage
FP1 - 0855
FP2 - 1255
FP3 - 0955
Qualifying - 1155
Race - 1200
PODIUM PREDICTION
1st - Lewis Hamilton
2nd - Nico Rosberg
3rd - Daniel Ricciardo
2015 BEST SHOT
FEATURE: Under the skin of the McLaren-Honda MP4-31
INTERVIEW: Rob Smedley on Felipe Massa
FEATURE: When F1 team-mates fight for the title
Keep up to date with all the F1 news via Facebook and Twitter