The season finale was all about Nico Rosberg and Lewis Hamilton, but a couple of other drivers also had something to say in Abu Dhabi.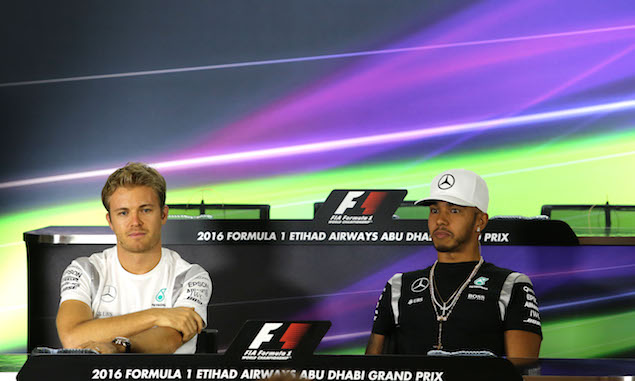 "We had a lot in common. We both love pizza, we loved eating boxes of Kelloggs Frosties and doing all the crazy things and we go out on big motorbike tours."
In Thursday's FIA conference, Lewis Hamilton revealed that he and Nico Rosberg apparently got very poor nutritional advice in their karting days.
---
"But then when I started to walk and I started to kind of talk with the grandstand I just had an amazing feeling. I started to cry, I couldn't hold."
At the start of the weekend, Felipe Massa recalled the emotion of walking down the Interlagos pit lane after retiring from his home race 10 days earlier. These drivers are incredible: imagine being able to talk to a grandstand.
---
"There are too many corners for our car."
Pascal Wehrlein clearly wasn't terribly optimistic about the performance of his Manor after Day 1 of practice.
---
"It was my last Friday so I would have loved to finish in first position! In fact, I'd like to do that on my last Saturday and especially my last Sunday too!"
Felipe Massa demonstrates what years of F1 experience can do for you, as he explains exactly what it takes to win a Grand Prix.
---
"Well, I'm really proud to have been fighting up to the last lap of the race in the same way I fought in the first lap of my career! I also took a little extra care with the car seeing as it will now be my car – thank you again to Williams for that gift!"
Felipe again, this time after the race and the day after Claire Williams told him he could keep his race car as a parting gift, proving that even F1 drivers treat a newly acquired car with extra care. Give it a month and it'll be parked outside his Sao Paulo house, covered in dirt with "clean me" written in the dust on the engine cover. 
---
"I had to stop the car, retire from the race… So I decided to go for a stroll on a push bike! … It's like my whole season has been summed up in one race weekend."
At least Daniil Kvyat saw the funny side of his misfortunes in Abu Dhabi and indeed throughout the year, as he borrowed a bicycle to cycle back to the pits in Yas Marina.
---
Hamilton: "Yeah, I'm hopeful… when he [Daniel] was just talking there… he usually says 'winner, winner, chicken dinner'… is that right, is that your saying? I kind of want him to be saying something similar to that tomorrow."
Ricciardo: "You want me to win?"
Hamilton: "No! Second, second, chicken… what's the second one?"
Ricciardo: "It doesn't exist!"
What more proof is needed that even the drivers get delirious towards the end of a very long season. This was the conversation between Lewis Hamilton and Daniel Ricciardo after qualifying, with the Englishman basically saying it would help his chances if the Australian got ahead of Nico Rosberg.
---
"That was nerve-wracking on the pit wall. Those last few laps with all four of them together felt like an eternity"
Mercedes technical director Paddy Lowe seemed to spend most of the final few laps of the GP with his head in his hands on the pit wall and appeared to age before our very eyes. 
---
"I want to say congrats to Lewis for his efforts. It's always tough to beat you and you were fast all year as always."
Nico Rosberg always knows the right thing to say.
---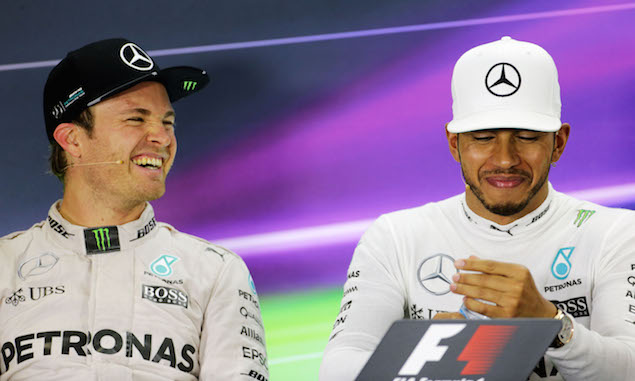 "What am I supposed to do, let the dude come and win the championship?"
Whereas Lewis Hamilton was a bit of a Sulky Susan after the race, although he was right to be upset at accusations of unsportsmanlike behaviour.
---
"I think today is Nico's day and it's a sign of respect and greatness to give him that. I think we owe it to him, he's a deserved champion."
In the post-race press conference, Sebastian Vettel acted like a true quadruple champion, trying to lift the mood and say the right thing, after race winner Lewis Hamilton was putting something of a dampener on things. 
---
Mystery quote of the weekend
For a moment there in the Green Room behind the podium, it looked as though Nico Rosberg might be the only man to become F1 World Champion and kill the sport's promoter all on the same day. The German bear-hugged Bernie Ecclestone lifting him off the ground.
It all ended well, but what did Bernie mean when he whispered to Nico: "You know what the danger is now don't you…" before noticing the cameraman and adding, "I'll tell you later."
Answers on a postcard (or just in the comments below)