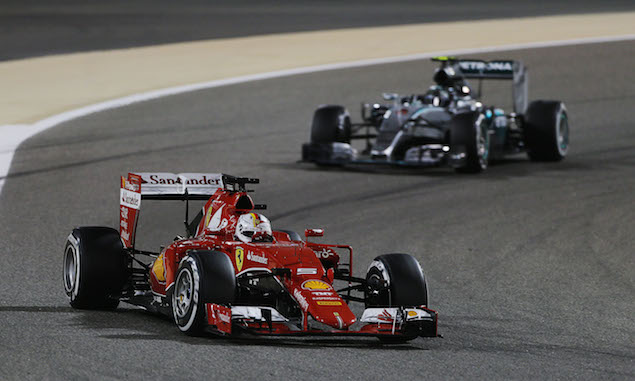 Sebastian Vettel has warned Mercedes he expects Ferrari to be a true match for the defending champions in the near future.
Ferrari has made a major step forward since the end of 2014, with Vettel able to win the Malaysian Grand Prix and also secure two further podium finishes from the opening four races of the season. Despite that progress, Mercedes still has a performance advantage and has won the other three races, so Vettel is cautious when it comes to title talk but has warned Mercedes the day will come when Ferrari is truly as quick.
"My mind is now in April, there is a long way to go when you talk about the whole season," Vettel said. "Up to now we can be very happy, overall it is a big surprise how good and strong we are, so that is very positive. We had a strong weekend in total [in Bahrain].
"Obviously, the target is to catch Mercedes from where we are, because we seem to be the team right behind them, but when I say right behind them, there is still a gap. Everything else will be a surprise, they had a strong season last year and a strong build up at the start of this year, and I think it is amazing to see how good we are this year.
"It will take a while before we are a decent match but for sure every weekend that is coming, we try to put more and more pressure on if we can."
Asked if he believes he can mount a serious title challenge for Ferrari this season, Vettel says the team needs to think more short-term about how it can close the gap.
"There is plenty of stuff we need to do and improve, so that is where my focus is. I think that is our best chance, looking at whatever you might call it, looking at performing well this year, having the strongest chance for the championship, whatever.
"It is April, it is the time where you keep your feet on the ground and we are not the favourites, we know that, but at this stage I think we have surprised a lot of people, so we know we can do well and we know we can do better."
Click here for analysis of the development war between Ferrari and Mercedes 
Keep up to date with all the F1 news via Facebook and Twitter