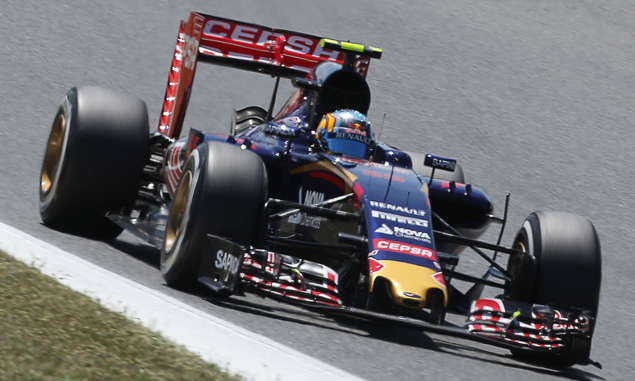 Carlos Sainz claims he avoided "a very possible accident" when he took evasive action after fellow Red Bull stablemate Daniil Kvyat "went for it like crazy" in a last-gasp move at Turn 1 on the final lap of the Spanish Grand Prix.
The Toro Rosso rookie entered the final stretch of the race down in 11th but was able to reel in and depose team-mate Max Verstappen. The Spaniard then immediately set about chasing down Kvyat for P9.
Sainz made the most of his DRS to overtake the Russian on the main straight as the pair started their last lap. But Kvyat then fought back with an optimistic lunge down the inside of Turn 1. The ensuing contact saw the Toro Rosso leave the track and rejoin ahead at the next corner.
"It was a tricky moment, obviously I had DRS and managed to get ahead of (Kvyat) before Turn 1," said Sainz. "Obviously this is the last lap and he went for it like crazy. He touched my rear wheel, so I decided to avoid an accident and kept going straight.
"It was nice clean racing and I think I avoided a very possible accident that our bosses would not have liked for sure. It was a really decent move."
Having started from a career-high fifth on the grid, Sainz had a so-so start and soon slipped back through the field. The Spaniard then elected to save his tyres with a view to finishing strongly, knowing that his Renault-powered STR10 is more competitive with less fuel.
"It was a tricky opening and a bit depressing to be honest to see that our P5 was nowhere near to last a bit, not a dream. But I kept it down and I started to save my tyres thinking about the end of the race.
"I know our car behaves better with lower fuel than when on 100kgs. I managed to extend a bit my stint on the hards to save the medium tyres that had a bit more grip. So I had the tyres for the last five laps to do a kind of quali sim and go for the last two points."
The Sainz/Kvyat incident is currently under investigation by the stewards.
Click here for Sunday's gallery from the Spanish Grand Prix
Keep up to date with all the F1 news via Facebook and Twitter