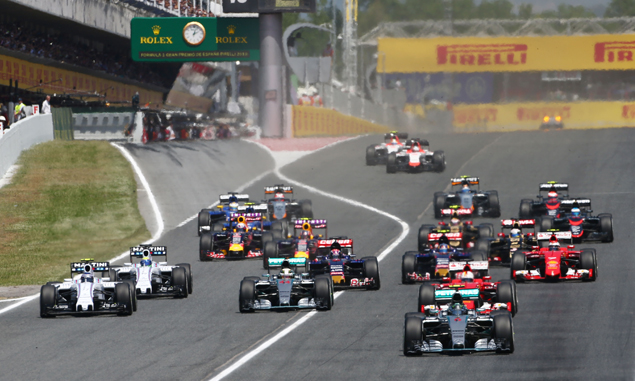 Lewis Hamilton says his Spanish Grand Prix quickly turned into an exercise in "damage limitation" when the Mercedes driver was beaten off the line by Ferrari's Sebastian Vettel.
Having been outqualified to pole by team-mate Nico Rosberg, the reigning champion had identified the initial run down to Turn 1 as crucial to his race strategy.
But too much wheelspin saw Hamilton almost fall to fourth on the opening lap.
"Obviously I had quite a poor start," said the Briton. "It's been a long time since I had such a bad start. I tried my best to recover – I nearly got back to fourth actually at the start so I was very fortunate to keep third.
"Unfortunately this track is not very good for overtaking, as it's impossible to follow here, which is a shame. I don't know how it was further the back but for the guys at the front it does not matter what you do, you cannot get close enough even with the DRS."
Stuck behind Vettel, Hamilton and Mercedes were forced to switch to a three-stop strategy and proved success full in their effort to leapfrog the Ferrari.
"I did everything I could behind Sebastian and did enough I think in the first stint. However, I had a very long pitstop and then had to do it all over again. But fortunately towards the end it was enough. 
"If I was behind on the track I wouldn't have got past. I am grateful that I could gain those points for the team and it is damage limitation for me."
"This has been a difficult weekend for me, so I'll definitely take it."
Hamilton's second place means the defending champion stills enjoys a 20-point lead over Spanish Grand Prix winner Rosberg in the Drivers' standings.
Click here for Sunday's gallery from the Spanish Grand Prix
Keep up to date with all the F1 news via Facebook and Twitter