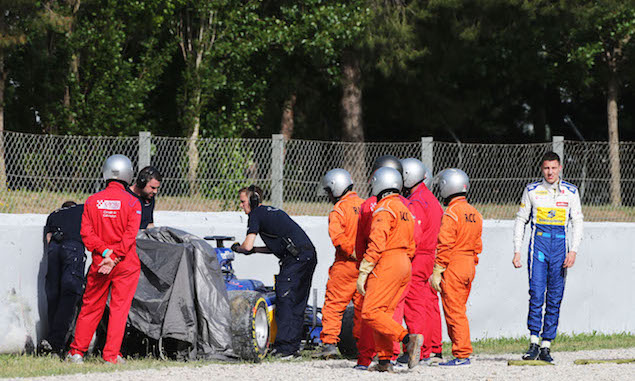 Raffaele Marciello says low tyre temperatures led to him crashing during the final day of testing Barcelona.
The young Italian driver hit the tyres on the outside of Turn 3 after just eight laps on Wednesday morning, causing the first red flag of the test. With the crash resulting in Marciello sitting out the rest of the morning session, he said it was the result of low tyre temperatures due to the program he was running.
"I lost the car and crashed," Marciello said. "Luckily it was not big, just the front wing. We were doing some constant speed tests so the tyre temperatures were going down really fast, so it was it even easier to crash and I got surprised by the lack of grip."
Sporting bruises on his back due to his height following back-to-back days testing for Ferrari and Sauber, Marciello says the difference between the two cars was clear.
"It is like two different levels of car. Sauber fight for something and Ferrari fight for something different. So it was difficult to compare the two cars because they are like two different levels but it is like most cars - they have good stuff and the team works really hard anyway and they always try to improve.
"[The difference in downforce] is not easy because you do not have a lot of time to adapt. But today apart from the crash it was quite good."
Click here for Wednesday's gallery from testing at the Circuit de Catalunya
Keep up to date with all the F1 news via Facebook and Twitter