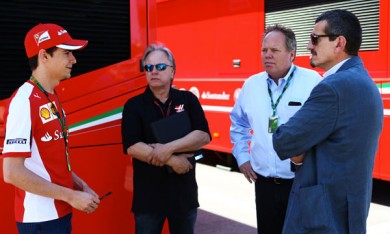 Ferrari reserve driver Esteban Gutiérrez has emerged as a front runner for a seat at the new Haas F1 Team next season.
The former Sauber driver , who left the Swiss team following a spell of two years, made his test debut for the Scuderia this week at Barcelona. According to Italian publication Autosprint, the 23-year-old Mexican also had a lengthy encounter with Gene Haas over the Spanish Grand Prix weekend, with discussions centered around a full-time drive next year with the incoming American outfit.
Haas has apparently set a September deadline for a driver decision, with rumors Nascar's Danica Patrick and GP2 racer Alexander Rossi may also be under consideration as the California businessman is obviously keen on including at least one American driver in the Kannapolis, North Carolina-based squad.
"We kind of have to wait until mid-summer and really see who's available," said Haas. "Obviously Formula 1 cars are a little unique, you probably have to have someone with relative experience of driving these cars," said Haas. "It would be a home run to put an American driver in an American Formula 1 team, but it takes a lot of alignment of the stars for that to happen."
A switch from Nascar to F1 by the highly marketable Patrick would obviously be viewed as sensational as Formula 1 has not had a female driver consistently in its ranks in nearly 40 years, but the move would also entail a lavish sponsorship package and Danica Patrick's total will and commitment to race at the sport's highest level, some many pundits doubt she has.
"We don't want to sit there and say no to anything but the probabilities... obviously when she's in NASCAR, it's very difficult to participate in F1," was Haas' assessment of the idea.
At the end of the day, financial support may well dictate the team's ultimate choice, with Gutiérrez enjoying some hefty personal backing from his Mexican sponsors, while Haas F1 Team has also signed an engine and technical support agreement with Ferrari. Haas will be the first American team to compete in Formula 1 since 1986 and the unrewarded efforts by homonym and motor racing impresario Carl Haas.
Click here for Wednesday's gallery from testing at the Circuit de Catalunya
Keep up to date with all the F1 news via Facebook and Twitter