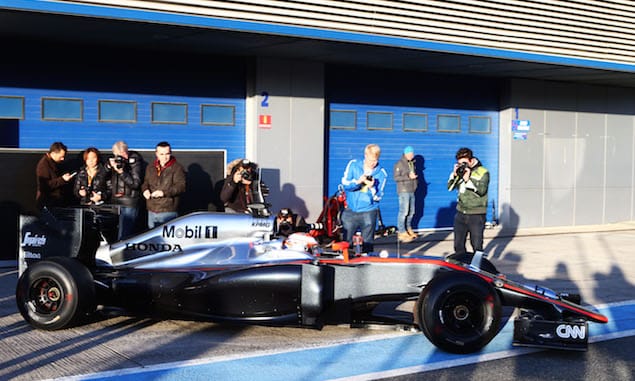 Ron Dennis admits the McLaren livery will change at some stage but only for commercial - rather than historic - reasons.
The new MP4-30 - the first Honda-powered car since 1992 - was launched ahead of the start of pre-season testing featuring a predominantly silver and black livery. With mixed feedback to the design from fans, Dennis says he doesn't pay attention to comments on social media but the livery will be updated.
"We've got the same thing inside," Dennis said. "You get all these people saying 'Why don't we make it orange?' And I say 'Why?'
"'Oh that was the old coloured McLaren'. Yes, you've just said it, that was the old colour of McLaren, why the hell would we want to go backwards? So then what do you do? Do you produce an aesthetically pleasing design? For what purpose do you produce an aesthetically pleasing design?
"This is the livery of McLaren, it's always been a combination of these colours and it will only change for commercial reasons. It won't change just to make a few people in the company happier because they want it orange or they want it yellow.
"Fluorescent red is our colour, we have more heritage in fluorescent red than any other colour … but as we evolve it will be far more recognised if we all come out with a lime green car for the following reason, you'll all go 'yeah they've got a big amount of money coming in'. But why would you react to Twitter?
"Yes we could change colour. Yes we could do something more daring. Yes we could do all these things. But give me a reason why? If it is just to make something more aesthetically pleasing, that is not enough reason for me.
"Don't worry, it will change, but I will not say when."
Click here to see the full gallery of the first McLaren MP4-30 images
Keep up to date with all the F1 news via Facebook and Twitter