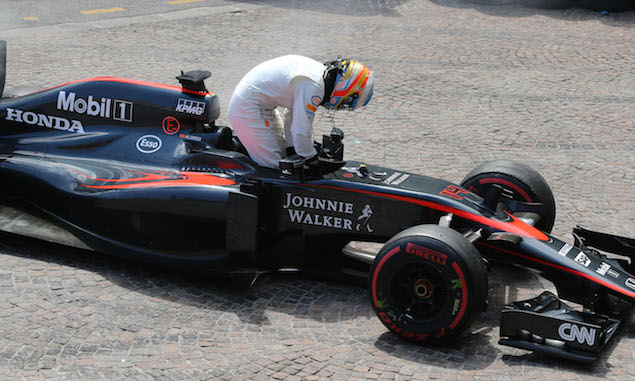 Fernando Alonso says he will not be frustrated by his numerous retirements this season as he describes 2015 as "a test year" for McLaren.
Having missed the Australian Grand Prix, Alonso has retired from races in Malaysia, Barcelona and now Monaco. With a suspected gearbox issue to blame for his third retirement in five races on Sunday, Alonso says there is no frustration with the situation because he doesn't see the failures as being too costly.
Asked if he's frustrated not to finish so many races, Alonso replied: "No, I want to be world champion.
"This year it's not possible, so the more problems that happen this year the better. We will make sure this does not happen next year when we have a competitive car, so this is a test year. iIt's not a winter test it's a whole year test and all of my mind, all my focus is on 2016, so we will try to go through 2015 with maximum learning."
However, Alonso does admit he wants to see McLaren making quicker progress with its reliability issues than it has been so far.
"Both cars we were eighth and ninth so the first points of the season for us, unfortunately we missed the opportunity. Since Barcelona I didn't finish a single session in the car, I was always talking to [the media] when cars were still running so hopefully we can improve that next time."
Click here for a gallery of Max Verstappen's crash with Romain Grosjean during the Monaco Grand Prix
Keep up to date with all the F1 news via Facebook and Twitter