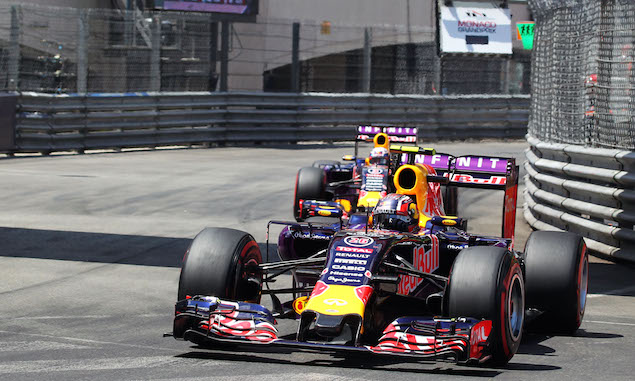 Christian Horner says Red Bull's drivers showed "great teamwork" after swapping positions twice due to team orders late in the Monaco Grand Prix.
With Daniel Ricciardo having put on a set of supersoft tyres under the safety car, the Australian robustly passed Kimi Raikkonen at Mirabeau which left him directly behind fourth-placed team-mate Daniil Kvyat. With Kvyat on older tyres and Sebastian Vettel in second also still on softs, Red Bull asked Kvyat to move over to allow Ricciardo to challenge for the podium.
With Ricciardo unable to overtake either Vettel or Lewis Hamilton, he then backed off on the final lap to ensure Kvyat finished fourth and Horner was delighted with how the two drivers worked together.
"I think the drivers have done a super job this weekend," Horner said. "Dany Kvyat, a great performance and great teamwork. With Ricciardo we had a free stop after Perez stopped to put a set of supersofts on the car.
"He managed a brave move to get past Kimi and then it made sense to switch the drivers on the understanding that if he couldn't pass the cars ahead he would have to give the position back and they both played very nicely."
And Horner says Red Bull made Kvyat fully aware of the plan to ensure he finished ahead of the overall team result was unchanged.
"Yeah, we said 'Look, he's on a different strategy, if he doesn't make any progress then he'll give you the position back'. So it was clear to both of them."
Click here for a gallery of Max Verstappen's crash with Romain Grosjean during the Monaco Grand Prix
Keep up to date with all the F1 news via Facebook and Twitter