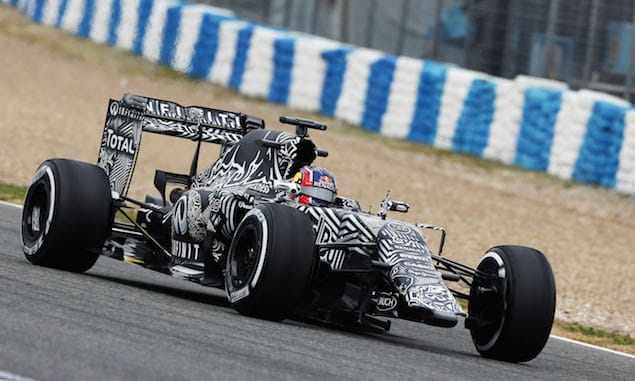 Daniil Kvyat played down his spin which ruined his first day of testing for Red Bull but admitted the error was "one of the most costly ones".
Kvyat spun during an out lap early on the second day of testing at Jerez, with the incident seeing him break one of the pylons which attaches the front wing to the nose of the car. With Red Bull not having any spare front wings, Kvyat was forced to run without the front wing for the rest of the day and admitted afterwards that it was a bad time to make such a mistake.
"We had to change our plans a bit this morning," Kvyat said. "These things happen. It happened to be at the wrong moment, it didn't happen for a while I have to say until today. So we had to change our plan and we had to work with what we had at that point and we had to still do the things that we found useful to do and we did them.
"Many factors [were to blame]. There was this and that, cold tyres and I was going very slowly but sometimes it is not even enough. It almost felt out of my power to be honest, you don't spin every day on the out lap.
"It was extremely small, one of the smallest incidents I had but also one of the most costly ones."
However, with the incident happening on his first day driving the RB11, Kvyat said he would not be too hard on himself.
"It's way too early to be frustrated, I think. These things happen and it's held us back slightly but at least the rain didn't make the day fully dry so it covered up the day slightly but nevertheless we still were looking for something more today."
Click here for the gallery of the second day of testing at Jerez
Keep up to date with all the F1 news via Facebook and Twitter