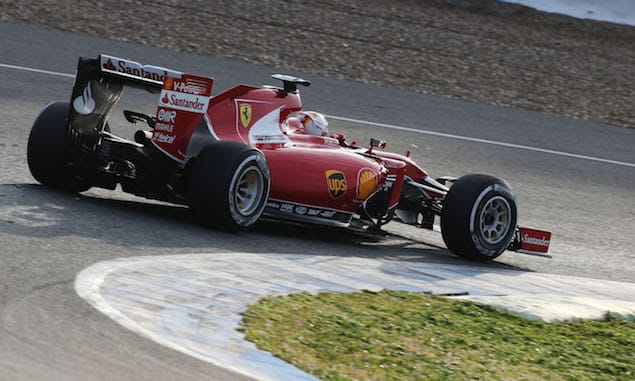 Sebastian Vettel believes Ferrari has a good platform to work from after setting the pace on the opening two days of pre-season testing.
While Mercedes was able to complete over 240 laps during the first two days, Vettel set the fastest time on both Sunday and Monday at his first pre-season test as a Ferrari driver. With former team Red Bull enduring a tough start to the test, Vettel said there were no major concerns he had from his initial impressions of the SF15-T.
"Well it certainly could be worse," Vettel said. "I think compared to last year at this stage it's looking quite a bit better. We did a lot of laps, especially today. I think it's normal in winter testing if you see anything running hot you take the time to stop and have a look which unfortunately takes time.
"I think overall it was a good day and in the end we got some running on the new inters which seemed to work even in these poor condition, so overall I think we can be fairly happy."
And Vettel said he was pleased with the feeling he gets from the Ferrari despite having been unable to influence its development prior to the winter.
"It's still very early to tell because in the end it always depends how you compare to other people. Some people didn't show much, others, if you look at Mercedes, are running a slightly different approach with more longer runs and extreme long runs.
"In that regard it's difficult, but speaking about the feeling inside the car, I'm quite happy and I think we definitely have a good platform to start working from and move on to, so that's the target in the next couple of weeks."
Click here for the gallery of the second day of testing at Jerez
Keep up to date with all the F1 news via Facebook and Twitter