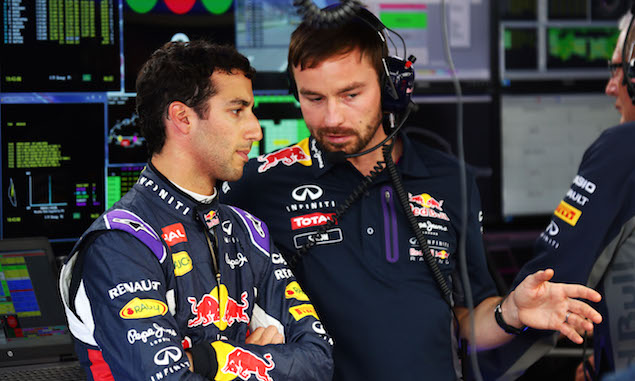 Red Bull chief engineer Paul Monaghan says there is "clearly something not right" with Daniel Ricciardo's recent pace.
Ricciardo struggled throughout the Canadian Grand Prix weekend, being outqualified by team-mate Daniil Kvyat before he also failed to make an impact in the race itself and finished a distant 13th while Kvyat scored points in ninth. Reflecting on the weekend, Monaghan says Red Bull needs to get to the bottom of why Ricciardo was so uncompetitive.
"In the end we had a mixed race," Monaghan said. "Daniil had a good afternoon. He kept it clean and tidy and managed his tyres very well. It was a very good performance.
"What went through my mind after the race, though, was 'what happened with Daniel?' There's something clearly not right there and we have to understand what's happening. We will find it and get him back to where he should be."
Despite the struggles, Monaghan says Red Bull will head to next weekend's Austrian Grand Prix fully focused on getting the most out of its car.
"We've got Austria coming up and that's another power circuit so it may not suit our car perfectly, but I've been there in the past when it's poured with rain or been freezing cold, so you never know what can happen. Also, it's Red Bull's home race so whatever happens it should be a good weekend."
Click here for the F1 drivers' girlfriends gallery
Keep up to date with all the F1 news via Facebook and Twitter