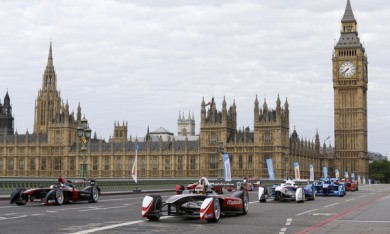 FIA President Jean Todt visited London's Battersea Park this weekend to witness the last couple of rounds of the burgeoning Formula E series whose drivers' title will be decided in Sunday's finale.
The heavily promoted event attracted perhaps its biggest crowd of the year and a fair amount of celebrities and motorsport personalities curious of the all-electric series.
While Formula E is still in its nascent state and has yet to prove its sustainability on a commercial level, some observers believe electric racing provides a clear blueprint for the future.
British entrepreneur and Formula E team owner Richard Branson, who announced a technical partnership this weekend between Virgin Racing and Citroen's DS brand, claims the series has the potential to overtake the popularity of F1 in the next five.
"Four or five years from now you'll find Formula E overtaking F1 as far as number of people, " Branson boldly said. "As time goes on clean-energy businesses are going to power ahead of others."
But Jean Todt was quick to warn that any comparisons between the two categories of racing was an error, and that each had their distinct characteristics.
"It is a big mistake to compare," said the FIA President. "It's two different things. It's like comparing London to a city on the beach... I really feel you need F1, which remains the pinnacle of motorsport, and you need Formula E, sports-car racing and rallying, Touring Cars and Formula 3."
Click here for FIA President Jean Todt's thoughts on the current state of F1
Keep up to date with all the F1 news via Facebook and Twitter