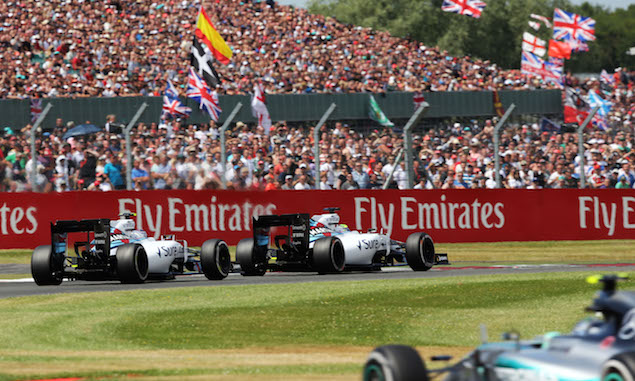 Rob Smedley says Williams wanted to allow its drivers to race as long as they didn't lose time to Mercedes in the British Grand Prix.
Felipe Massa made an impressive start to take the lead in to Turn 1, while Valtteri Bottas was second after overtaking Lewis Hamilton at the restart following a brief safety car period. Both drivers were then told not to race each other, with the team radio message being to "pull away together" from the Mercedes pair behind, but Bottas said he was going to attempt to overtake using DRS.
With Bottas then told he could overtake as long as he made a clean move and pulled away, Massa had to defend from his team-mate and managed to hold position. Smedley says too much time was being lost as the two drivers battled over position at first, which is why he initially called off the fight.
"We were happy to let them race as long as we weren't holding each other up," Smedley said. "I don't think you get all of the radio messages. Obviously it was a little bit more clear cut than that.
"As long as weren't holding each other up, as long as they weren't fighting hard and battling, which was what was happening in those first laps, then we were then going back into the clutches of Mercedes – we didn't want to do that. After a couple of laps, when it all calmed down, I said if you can make a clean pass then it's absolutely fine, you're racing again."
Bottas said he had been disappointed not to be allowed to fight Massa throughout the race, believing he was held back when he had his best chance.
Click here for Sunday's galleries from the British Grand Prix
Keep up to date with all the F1 news via Facebook and Twitter