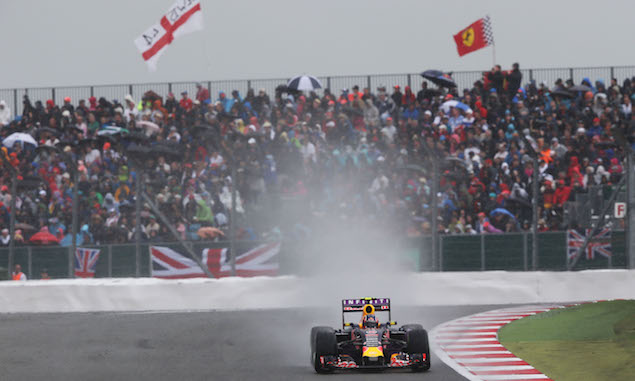 Red Bull team principal Christian Horner says Daniil Kvyat could have been on the podium at the British Grand Prix but for a spin in wet conditions.
A light rain shower around the start of the second sector saw some drivers gamble on intermediate tyres, but the majority of the track remained dry and it was only a second, heavier shower which forced the rest of the field to get rid of their slick tyres. Kvyat spun on his in lap in the rain and Horner says a podium was a possibility after he finished 0.7s behind fifth-placed Valtteri Bottas.
"I think the actual race was fantastic," Horner said. "It had a bit of everything, Williams getting a good start added another dimension to it, four cars pulling away for the first time this year. Since Monaco we were in the race, racing the Ferraris, Kvyat made a very good move on Seb [Vettel] into Luffield and then we were really focused on a one-stop strategy because we weren't sure if Ferrari were going to do two.
"Kvyat seemed to have very good pace, unfortunately [Daniel] Ricciardo started to develop a problem and we had to retired the car with electrcal failure of ERS and turbo in the end.
"Then the rain started to come and it is always that frustrating scenario when you are watching and listening to the drivers, looking at lap times… not to go to inters too early and chew them up, but not too late. The two guys that timed it to perfection were the two guys with experience, Lewis [Hamilton] and Seb.
"Dani had a spin on his in-lap, and lost 10-12secs, plus the deteriorating circuit. Without that I think we would have been pushing Sebastian for a podium. So even though the drivers that ended up on the podium were the same faces, the actual way they got there was entertaining today."
And Horner says it was encouraging for Red Bull to see the potential in its chassis  at certain intervals of the race.
"Overall it has been a positive weekend in that the car has made a forward step, I think the layout of the circuit was always likely to play to our strengths. The other thing that reassures us is when you do get a bit fo variable conditions, Kvyat was the quickest car on track in the last few laps on inters.
"When the rain came and he was on slicks, for periods of time he was the quickest guy on circuit. When things get balanced out a little, it is great to see flashes of real potential. Ultimately, sixth could have been  better but it could have been a lot worse."
Click here for Sunday's galleries from the British Grand Prix
Keep up to date with all the F1 news via Facebook and Twitter