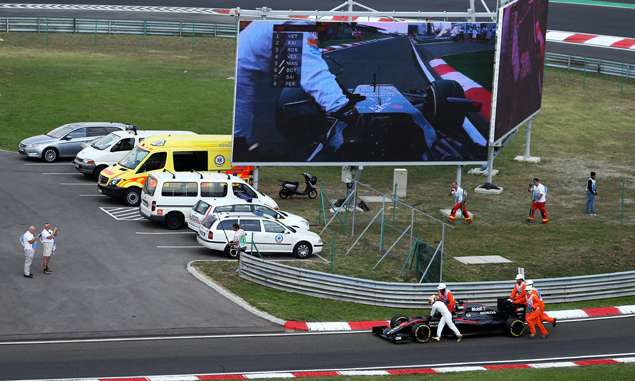 Fernando Alonso admits he was surprised not to be able to compete again in the second phase of qualifying for the Hungarian Grand Prix after he helped push his stricken car back to the McLaren-Honda garage.
Having made the initial cut by setting the 14th time in Q1, the Spaniard was targeting a maiden Q3 appearance when his Honda-powered MP4-30 stopped on pit entry halfway through the middle qualifying segment and caused a red flag.
Alonso then started pushing his machine in the scorching Budapest heat in order to resume the session.
"Unfortunately when I arrived to the garage, they told me that we were not allowed me to go out again because the rule says that the car has to arrive by itself into the garage," said the double-world champion.
"This is a little bit of a strange rule because we saw many times the car arrive even on a tray and start the session again."
Although Alonso had warned about McLaren potentially being in a false position in free practice, the 33-year-old was pleased to run smoothly in the top 10 across all three sessions.
However, Honda's reliability woes eventually caught up with the British squad at the Hungaroring: prior to Alonso's early Q2 exit, team-mate Jenson Button had indeed been knocked out of Q1 when he could not deploy his ERS.
"This is unlucky," commented the ex-Ferrari star. "The weekend has been quite good for us, we have been regularly in the top 10 in all the sessions. And then Jenson had a problem on his fastest lap with the KERS I think, and then my car switched off.
"I think it's something electrical, some connector or something because the power was off immediately. That was a shame.
"Definitely, this is not the right time to have this problem. But we try to learn as much as we can for tomorrow."
AS IT HAPPENED: Hungarian Grand Prix qualifying
Click here for a gallery of Sergio Perez's crash in FP1 at the Hungarian Grand Prix
Keep up to date with all the F1 news via Facebook and Twitter