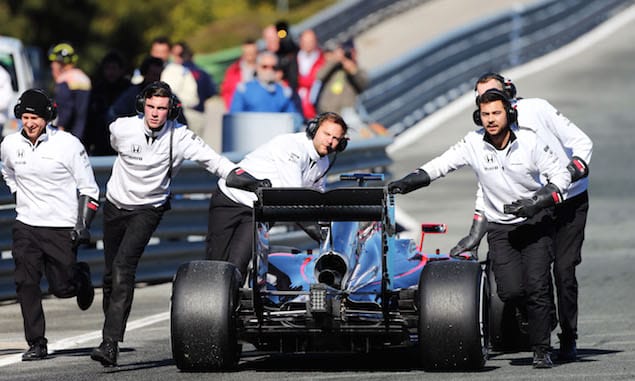 McLaren racing director Eric Boullier admits the issues faced in testing at Jerez will delay the team being able to maximise the potential of its new car.
The main focus for McLaren at the start of 2015 has been the Honda power unit, with the team seeking mileage to try and iron out any issues with its new engine supplier. However, with McLaren managing just 79 laps during the first test, Boullier concedes the issues are pushing back the point at which the team can focus on development of the MP4-30 itself.
"With a new concept and engine partner, obviously the less we run the more difficult it's going to be to catch up or the later it will be that we will be able to compete competitively," Boullier said. "Every time we can't achieve all our targets in terms of mileage or development we push back the date where we are able to exploit 100% of our car and our power unit to fight for the win."
However, asked if the lack of mileage would put it at a disadvantage in terms of getting the drivers comfortable with the handling of the car, Boullier replied: "No, I don't think so.
"This is why it was a relief to do 32 laps in a row [on Tuesday] and actually the driver comments were very positive. Fernando said the car was reacting really well and was very stable and you could see from the pit wall that a couple of times he was checking in Turn One. Mercedes was driving at the same time and you can see that the car is stable on the entry, so this is just a sign."
Click here for the full final day gallery from the Jerez test
Keep up to date with all the F1 news via Facebook and Twitter