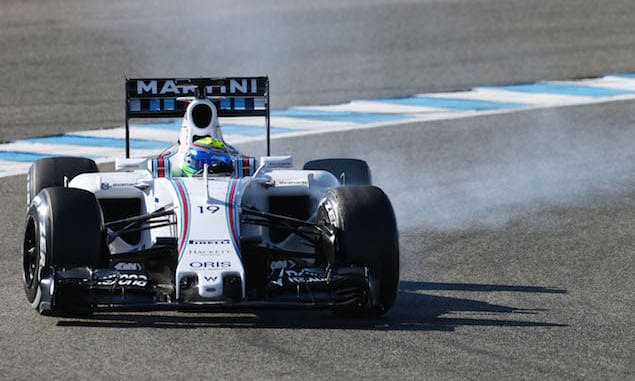 Felipe Massa says the first test has confirmed that "Mercedes has an amazing car" but he still believes Williams can close the gap.
Nico Rosberg and Lewis Hamilton completed over 500 laps over the course of the first test at Jerez, with Hamilton ending the final day third quickest. While it was Ferrari-powered cars which set the pace, Massa says there is no doubt the Mercedes remains extremely strong from what he has seen across the first four days of testing.
"It's always difficult to give a good answer at the end of the first week of tests," Massa said. "There's still a lot to understand, not just from us but from the others as well.
"It's still clear that Mercedes has an amazing car, Ferrari maybe made a step forward but I'm still convinced that we can be there fighting again."
Explaining where Williams has made progress, Massa says some of the base areas of the FW37's characteristics are notably better than its predecessor.
"I think the car stability and the balance was a step forward compared to last year. But it's still too early to start going through point by point. So I think it was a positive feeling, we just need to keep working as hard as we can to improve the car as quick as possible to be as strong as we can in Australia."
Click here for the full final day gallery from the Jerez test
Keep up to date with all the F1 news via Facebook and Twitter